Bellesini Academy helps Lawrence students achieve their dreams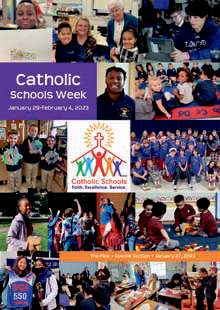 Bellesini Academy is now in its third decade of serving young men and women in Lawrence, and its students and alumni are achieving remarkable success at Bellesini and beyond. The tuition-free, Nativity model middle school serves 60 boys and 60 girls in grades five to eight and over 250 alumni in high school, college, graduate school, and the workforce.

Julie DiFilippo, who has served as head of school since Bellesini opened in 2002, credits the Academy's High School Placement and Alumni Support Team with helping students flourish personally and academically beyond their middle school years. "When our first class of eighth-grade students graduated in 2005, we quickly realized the need to provide support to our graduates and their families during the high school application process, at their respective high schools, and later as they applied to and attended college," said DiFilippo. "I tell our students and parents when they arrive at Bellesini that we are beginning a 12-year relationship, and we will partner with them to help them achieve success in high school, college, and beyond."

As Bellesini grew and expanded, so did its High School Placement and Alumni Support Program. The Academy opened its co-institutional Girls' School in 2015, and increased its staff to serve the needs of its growing group of alumni and alumnae. "We now have a team of five staff members, and they begin working with our students in the seventh grade," explained DiFilippo. "All of our team members are graduates of Catholic colleges, three of them are Bellesini alumni, and four of them grew up and live in Lawrence. They understand the challenges facing students in Lawrence, and are deeply invested in helping the young men and women we serve reach their dreams of a college degree and a successful career."

Danny Rodriguez, who graduated from Bellesini in 2008, and went on to attend St. John's Prep and Providence College, manages the high school placement program. Anthony Abarca '11, dean of students and director of financial aid, also attended St. John's Prep, and received his degree from Boston College. Phong Tran attended Lawrence public schools and Boston College, and Breanna Walukevich, director of alumni support, is a graduate of Merrimack College. Anthony Lopez, a member of Bellesini's Class of 2008, is a graduate of St. John's and St. Michael College.

Lopez, who works in the Human Resources Department at Phillips Academy Andover, explains why he returns to Bellesini in the evenings to support current students. "Since I graduated college I have worked at Bellesini as much as I can. I love coming back to feel that sense of community. I was once in all of these kids' shoes. I relate to them and the things they are going through. I hope my impact can assist them in the next chapter of their lives."

Bellesini helps each alumnus to develop goals and four-year plans for college acceptance. All seniors receive help on college applications and financial aid, and staff provide assistance to all high school and college-aged alumni on financial aid renewal forms. The staff helps seniors with the college search process, SAT prep, guidance with college selection, admissions applications, financial aid submissions, and scholarship applications.

The hard work of the team is paying dividends for students and their families beyond a list of impressive high school and college placements. "Paying for college is a tremendous challenge, and it is exponentially greater for students of color in a community like Lawrence," said DiFilippo. "Our alumni support team has successfully guided our students through the application process for outside scholarships, which make it much more affordable for our students to attend college, with many attending at little or no cost to their families."

Four Bellesini alumni from its Class of 2018 received full, four-year QuestBridge Match Scholarships to Boston College, Wellesley College, and Northwestern University. Another three received four-year, Christian Herter half scholarships; 58 percent of Bellesini's Class of 2018 are attending college this year on full, four-year scholarships. So far this year, two high school seniors have received four-year POSSE Scholarships to attend Rutgers University and Bucknell University, and another received a QuestBridge Match Scholarship to the University of Chicago.

Ryshell, a member of Bellesini's 2019 Girls' Class, shared how the Alumni Support Program is helping her pursue her dreams. "Bellesini continues to have a tremendous impact on my life," she said. "With the help of the Alumni Support Program, I was able to thrive at Notre Dame Cristo Rey High School, and now I am proud to say I will be attending Rutgers University in the fall as a full-tuition Posse Scholar. I am looking forward to going off with my Posse to New Jersey and studying in the STEM field. I love knowing I always have the Bellesini family back home to support me the entire way."

For 17 consecutive years, every Bellesini graduate has been placed at private high schools on scholarship, including Austin Prep, Central Catholic, Lowell Catholic, Academy of Notre Dame, Notre Dame Cristo Rey High School, and St. John's Prep. 100 percent of Bellesini alumni graduate from high school, compared to just 71 percent of their peers in Lawrence. 97 percent go on to attend college, with another 3 percent serving in the military or attending trade schools.

"We're very proud to have Bellesini graduates attending some of the most prestigious colleges and universities in the nation, including Harvard, Boston College, College of the Holy Cross, Northwestern University, and Wellesley College," said DiFilippo. She shared that another alumnus, who is a senior at St. John's Prep and a National Merit Scholar finalist, just received his acceptance to Stanford University.

The Academy's college and post-college alumni are pursuing degrees and careers in a wide range of fields, including: accounting, communications, computer science, economics, education, engineering, English, finance, human resources, international business, marketing, political science, public policy, and technology. Nineteen alumni are pursuing masters and doctoral degrees in graduate programs, ranging from law school to physical therapy. The Alumni Support staff assists with summer employment, internships, community service opportunities, and post-graduate job searches, resume building, and networking events for older alumni.

Angel Martinez, a member of Bellesini's Class of 2013, attended St. John's Prep and graduated from St. Anselm in 2021 with a computer science major, and a minor in cyber criminology and web design. He now works as a software engineer at Liberty Mutual in Boston, and recently reflected on Bellesini's impact. "Bellesini's attention to detail when it comes to preparing students for the future while also supporting them and their families in their current situation is what separates them from any school I've attended," said Martinez. "The strong curriculum, support system and exposure really sets students up for success. Bellesini definitely feels more like a family than anything and continues to support me a decade removed. I am forever grateful to be a part of the community."

To learn more about Bellesini Academy, please visit the school's website: www.bellesiniacademy.org.



STEPHANIE ABDOO IS A STAFF MEMBER OF BLESSED STEPHEN BELLESINI ACADEMY, LAWRENCE.