60 years of choral and academic excellence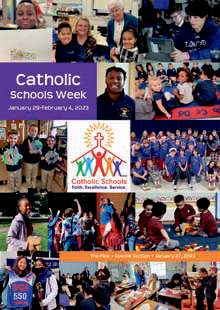 Oh my, how time flies.

St. Paul Choir School is celebrating its 60th anniversary this year. Since 1963, St. Paul's has held fast to its motto, "replatur os meum laude tua," or "let my mouth be filled with your praise." For six decades, the school and its boy choristers have been the archdiocese's loveliest singing voices.

Stronger than ever, the school reflects on its past as it looks forward to the decades ahead.

Founded by Theodore Marier, the school and choir were a response to a papal call for greater sanctity and solemnity in church music. Dr. Marier, a disciple of the Gregorian chant tradition that sprang from Solesmes Abbey, France, saw an opportunity to rise to the challenge set forth by Pius XII's encyclical, Musicae Sacrae, in the heart of Harvard Square.

It was a unique gamble.

Few other institutions in the region took Musicae Sacrae to heart. Today, the Choir School remains unique among elementary and middle schools. It is a boys' school for grades three through eight, with classes of 12 or fewer, daily Mass, and just over two hours a day of rehearsing choral and liturgical masterworks. Students' days also include academic classes such as humanities, music theory, and rhetoric.

"What we are doing is countercultural," current Director of Music James Kennerley says.

Certainly, Pope Pius XII and Dr. Marier thought the same.

From the humble beginnings of 25 students to their current 46, Carnegie Hall to Madison Square Garden, Boston to Rome (three times!), performing on Good Morning America to the National Anthem at Fenway Park, Haydn to Mozart, singing countless weddings to the funeral of Rose Fitzgerald Kennedy, St. Paul Choir School has been a mainstay of 20th- and 21st-century Boston.

With little to no formal training before joining the school, boy choristers have been transformed into professional musicians who have performed with John Williams, Seiji Ozawa, Benjamin Zander, the Boston Symphony Orchestra, Boston Lyric Orchestra, and the Boston Philharmonic Orchestra. Since 1963, they have recorded numerous professional albums (the latest, "Gabriel Faure: Requiem and Other Masterworks," released on Jan. 20). They have toured professionally in Italy, Germany, Austria, Mexico, Canada, and across the northeastern United States.

Following Marier, the directorship of music at St. Paul's has been led by John Dunn, Jennifer Lester, John Robinson, and, currently, James Kennerley. Each has brought unique talents to bear. Dunn was not only the assistant director of music with Marier, he was also his successor and the champion who institutionalized the founder's charisma -- as well as his own. His dedication is what made the school sustainable. Jennifer Lester, a faithful supporter of the mission of the school, furthered this through her organizational skills. Robinson, a former boy chorister himself, deepened the tradition and broadened the repertoire of being a chorister. Most recently, Kennerley has brought his own pieces and arrangements along with a flair for both original music and instrumental accompaniment.

"The idea of stewardship is something that we take very seriously here," one teacher said. "This is a legacy of hard work and beauty that is shared by the generations that came before us and those influenced by the young men who graduate from here."

That's because the Choir School's finest legacy is its alumni. For 60 years, choristers have graduated from its excellent academic programming and small classrooms to the likes of Harvard and MIT. Colin Lapus, class of 2017, is currently studying the organ at England's prestigious Royal Birmingham Conservatoire.

"St. Paul's changed my life," Lapus says, "to say to make friends is an understatement."

Many alumni and current students have noted the same thing: this is more than a school, it is a brotherhood. That is something that they cherish and carry with them, regardless of their graduation year, whether it is 1963 or 2023.

With great wonder and resolve for what the next 60 years will bring, Kennerley concludes, "being a boy chorister is the greatest thing you can do for your child."



PATRICK MORAN IS ASSISTANT PRINCIPAL (PMORAN@ST.PAULSCHOIRSCHOOL.US OR 617-868-8658) AT ST. PAUL CHOIR SCHOOL IN HARVARD SQUARE, A GRADE THREE THROUGH EIGHT BOYS SCHOOL SERVING ST. PAUL PARISH COMMUNITY WITH CHORAL EXCELLENCE.