Loyola Academy provides unique middle school experience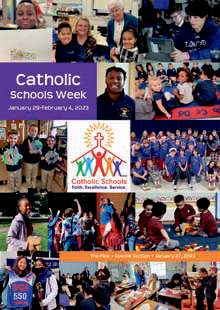 Today, it is more important than ever to ensure middle school students receive high-quality academic instruction in a welcoming and inclusive environment. Experiencing middle school in a pre-K-8 school allows students unique leadership and growth opportunities.

St. Columbkille Partnership School's (STCPS) Loyola Academy offers a distinctive opportunity for rigorous learning and healthy development in an environment infused by Catholic faith and values guided by Ignatian pedagogy. Simply put, Loyola Academy is a grade six to eight middle school where students can find their voice. The inclusive community helps students transition to young adulthood and embraces their unique interests, strengths, and needs. Specifically, the school's small class sizes, familiar settings, and uninterrupted support help students thrive, helping them feel safe to contribute to a consistently positive environment.

Loyola Academy students are engaged in a thoughtful curriculum taught by exceptionally qualified teachers, all of whom are required to have or be working towards a master's degree in education. As part of a laboratory school designation with the prestigious Lynch School of Education and Human Development at Boston College, the middle school faculty frequently collaborate with professors and student teachers.

Students learn to produce high-quality work, which reflects their full understanding of the academic content. They develop a battery of academic skills needed to think critically, express their thoughts coherently, speak confidently, and ask meaningful, pertinent questions that further their academic development. To succeed in high school and beyond, students acquire necessary study skills, such as organization, note taking, and time management.

"The Loyola Academy middle school experience is one of immense growth and leadership," says Head of School Jennifer Kowieski. "Our middle school students develop essential social and emotional skills through a variety of experiences, including being partnered with younger grade buddies, meeting weekly in an advisory group, and leading school-wide events. With greater confidence, independence, and leadership, our students thrive in middle school and continue that growth into high school."

Leadership, responsibility, and respect for one another are modeled for students within the context of daily life. Loyola Academy teachers guide students to independence and self-discovery. Upon graduation, they are prepared to meet the academic challenges of high school, with an awareness of the needs of society and a commitment to Jesuit-influenced beliefs and values. The Loyola Academy middle school program thoroughly prepares them for their future -- intellectually, spiritually, and socially.

"Loyola can offer a smaller, more comfortable setting, especially for seventh and eighth graders," says Mr. David Walsh, Social Studies and Religion at Loyola Academy. "Not only is it an easy transition into middle school, but the students also have the opportunity to learn among a diverse group of peers and learn more about themselves and others."

Students in Loyola Academy start the week with an all-group assembly to prepare for the upcoming week. Each month, teachers nominate one student in each grade for the Loyola Leader of the Month program, a program implemented to promote self-awareness, practice the Jesuit philosophy, and develop a greater sense of community among the middle school students.

"I appreciate how tight knit our Loyola Academy community is," says Ms. Regina Capobianco, Loyola Academy instructional coach and technology teacher. "Teachers get to know students over a few years and see them grow as people and as learners. It's been special for me to teach my former fifth graders in sixth, seventh, and eighth grades. It makes it so much more special when you get to see those students graduate from eighth grade knowing them for more than just one year."

Additionally, Loyola Academy offers leadership opportunities through Student Council, yearbook, and various volunteer groups; Algebra as an elective and Spanish-language classes each school day; and various athletic opportunities, such as basketball, cross country and skiing. The school also pairs middle school students with an elementary student, providing mentorship opportunities, as well as the joy and responsibility of being a role model to younger classes.

"Middle school is an interesting transition when students can appreciate a wide range of activities and topics," says Walsh. "Students are able to hold on to the energy that is typical of younger children while also beginning to take greater ownership and responsibility for their studies. I want to help students understand that they can have an impact on the world around them."



CHRISTINE MCCARTHY IS A COMMUNICATION SPECIALIST AT ST. COLUMBKILLE PARTNERSHIP SCHOOL (STCPS), A PRE-K THROUGH GRADE EIGHT CATHOLIC SCHOOL LOCATED IN BRIGHTON THAT PREPARES STUDENTS TO LEAD LIVES OF FAITH, SERVICE, AND LEADERSHIP. STCPS IS THE ONLY DESIGNATED LAB SCHOOL OF BOSTON COLLEGE'S LYNCH SCHOOL OF EDUCATION AND HUMAN DEVELOPMENT AND PROVIDES A SUPERIOR EDUCATION SUPPORTING CUTTING-EDGE APPROACHES TO TEACHING AND LEARNING IN THE HUMANITIES, THE ARTS, AND THE SCIENCES AGAINST THE BACKDROP OF THE CATHOLIC INTELLECTUAL TRADITION. LEARN MORE AT STCPS.ORG.