A STREAM of possibilities at St. Augustine School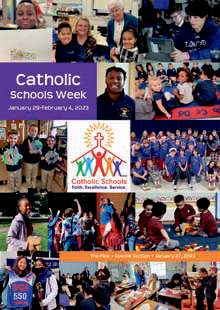 Every day at St. Augustine School, we embrace our mission to form both saints and scholars. Just last year, this drive to provide a morally enriching and academically rigorous curriculum compelled us to create a STREAM Lab, where students can explore science, technology, religion, engineering, art, and math through tangible, project-based endeavors. Inspired by St. Joseph the Worker, The STREAM Lab is equipped with 3D printers, tools to introduce the basics of coding, a green screen, video filming technology, write-on white board tables, a Maker Space, and other helpful manipulatives to facilitate the knowledge and love of innovative thinking. This state of the art space is used by students in all grades, from our early childhood program all the way through eighth grade.

Many teachers have expressed appreciation for how much the space truly animates their lessons and fortifies information retention among students. The STREAM Lab has transformed many abstract concepts into concrete learning experiences, which increases accessibility to notoriously challenging academic subjects such as math and science. Grade five teacher Karen Landers notes, "Students are very excited for a schoolwide STREAM project to research birds of New England. Grades will design and build bird houses using the 3D web design app Tinkercad, program and install sensors using Raspberry Pis, and then monitor the bird houses for any feathered visitors come nesting season."

As a Catholic school, we have a unique claim to scientific excellence, as our faith encourages us to explore the natural world so that we may know God more. Nurturing each student's innovative spirit allows for a deeper understanding of the patterns of God's creation. Furthermore, the STREAM Lab inspires intellectual curiosity in students as our teachers seek to harness and foster inventiveness, originality, and imagination.

While the world often erroneously associates scientific study with a lack of faith, our Church's history is full of pious men and women who have made significant contributions to the field of science. Father Georges Lamaitre, a Jesuit priest of the 20th century, brilliantly articulated the origins of the cosmos. Known as the father of the Big Bang Theory, Father Lamaitre's approach to science was seamlessly intertwined with his faith. When accepting a prestigious award, he said "Science is beautiful; it deserves to be loved for itself, as it is a reflection of God's creative thought."

Another notable Catholic scientist, St. Giuseppe Moscati, was a doctor and medical school professor whose research greatly advanced the field of biochemistry. A skilled physician known for his great intellect, Dr. Moscati's medical and scientific practice was marked by heroic love for others. He would often go out of his way to care for those who would not ordinarily be favored by the medical system; he cared deeply for the poor and the vulnerable. St. John Paul II said of Dr. Moscati that "in caring for the sick he used the warmth of his humanity and the witness of his faith." The field of science and its applications, then, are valuable means of glorifying God by serving others. STREAM is thus an important academic pursuit, worthy of our students' time and attention. While our graduates go on to be incredible analytical thinkers, problem solvers, and team members, the hope of St. Augustine School's faculty and administration is that they will use their education and talents generously for the sake of human flourishing. This year's Catholic Schools Week theme of "faith, excellence, and service" encapsulates the essence of our STREAM Lab because it is our school's Catholic identity that motivates us to pursue academic excellence in all STREAM projects, so that ultimately the knowledge and skills rendered as a result can be used in service of others.



KATHLEEN MCCARTHY IS MARKETING AND ENROLLMENT ASSOCIATE AT ST. AUGUSTINE SCHOOL, ANDOVER.