Cambridge is our campus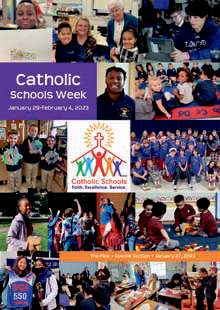 When I first started working at Matignon High School in 2008, as it was known for more than 70 years, most would affectionately describe the school as a small, local, Catholic institution tucked away in the corner of North Cambridge. Over the years, I have seen Matignon change and evolve. I have watched students grow up and have seen how Matignon becomes a part of people's lives. Looking back, now I see the school is anything but small or tucked away.

As the lone Catholic high school in Cambridge, we decided to rebrand in 2020 to the "Cambridge Matignon" school. Cambridge, Massachusetts, is the home of innovation and global intellectual creativity. Given the cosmopolitan aspect of our local city, we have seen our student body transform from an almost exclusive focus on local neighborhoods to an inclusive, diverse, and global group. Our current students represent 67 zip codes from communities surrounding Cambridge, 29 states across the country, and 19 countries.

We have sought to change the narrative of what a traditional, Catholic education has to offer in a university town. We have arranged meaningful real-world, experiential learning opportunities for our students at Cambridge-basedxa scientific firms, like Novartis, to provide them with world-class opportunities to learn how to make an impact on the health and wellbeing of others. In 2022, we successfully launched the Cambridge Arts Academy @ Matignon with the American Repertory Theater (ART) at Harvard University. Our inaugural cohort attends classes at Matignon during the day and takes professional theater courses with ART teachers in the afternoons.

Starting in the spring of 2023, we will offer students an opportunity to participate in the "Sistema Side-by- Side'' music program at the Longy School of Music at Bard College, which is located next to Harvard Square. This initiative pairs interested students with Longy conservatory students for rehearsals and performances. Future musical programs include Longy students coming to Cambridge Matignon to work with our students and teach various classes; their Master of Music Education students will offer private lessons to interested students. Taking full advantage of our Cambridge location, we are always seeking to offer students new opportunities for personal growth, reflection, and career exploration.

In the fall of 2022, we welcomed our new head of school, Dr. Paul Christopher Manuel, a seasoned academic administrator and scholar, who holds a Ph.D. in government from Georgetown University. At our November Academic Convocation and Mass with Cardinal O'Malley and Abbot Mark Cooper, OSB, of St. Anselm College, Dr. Manuel announced the creation of the Speaker O'Neill Cambridge Center for Civics, Leadership, and Public Service. Speaker O'Neill believed in the value of a Matignon education; he sent four of his children to Matignon; and, our school is located in the heart of the Cambridge congressional district that he represented for 37 years. The new center will honor the former speaker's legacy as a noble public servant. It will run a variety of civics education programs for all interested local middle school and high school students.

During the fall of 2022, we also launched the Cambridge Regional Catholic School Consortium. The consortium seeks to build relationships with our neighboring Catholic middle and elementary schools with the intention of creating a seamless local Catholic school continuum from Pre-K to grade 12. We share academic and professional resources, and offer early application and acceptance programs to our consortium partners, as well as a Catholic School Partnership Merit Scholarship. Our new Speaker O'Neill Cambridge Center will also offer civics education programs to students in the consortium.

Matignon was also recently approved as a candidate school for the International Baccalaureate-Career Path (IB-CP) program. Dr. Manuel noted that this "successful step in the process to become an IB-CP school is an important recognition of our excellent academic program, our global student body, and is the result of a year-long process to adapt and improve our academic curriculum to the needs of a globalized world."

As we celebrate our 75th anniversary, the Cambridge Matignon School continues its historic mission of educating its students "spiritually, academically, and socially so as to inspire compassionate and confident advocates for the greater good." We are perfectly positioned to accomplish this and more with Cambridge as our campus. The Cambridge Matignon experience is all about teaching students to better serve their communities. We are proud of our history and are excited about our next 75 years. We invite you to visit our website (www.matignon.org), or better still, schedule a tour to visit our wonderful campus!



AMANDA VALLIMONT IS DIRECTOR OF OPERATIONS (AVALLIMONT@MATIGNON.ORG OR 617-876-1212) AT THE CAMBRIDGE MATIGNON SCHOOL, AN INDEPENDENT, CO-EDUCATIONAL CATHOLIC COLLEGE PREPARATORY SCHOOL LOCATED IN CAMBRIDGE AND OFFERS AN EXCELLENT EDUCATION IN A FRIENDLY AND SUPPORTIVE ACADEMIC COMMUNITY.