A mark of distinction at St. John's Prep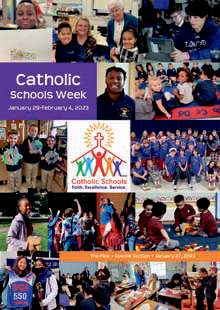 St. John's Prep has been recognized as an Apple Distinguished School for a three-year term, joining fewer than 700 schools in 38 countries worldwide to hold that distinction. The school's selection highlights its success as a pacesetter in providing a compelling learning environment that engages students and demonstrates tangible evidence of academic achievement.

Apple Distinguished Schools are considered centers of innovation, leadership, and educational excellence. Eligible schools are invited by Apple to apply for the honor and are selected by meeting key, Apple-vetted metrics, such as innovative use of the Apple platform, faculty proficiency with iPad or Mac, and a documented record of success using technology to inspire creativity, collaboration, and critical thinking in learning.

To be considered, schools must also operate a one-to-one learning environment for more than two years prior, meaning all students and teachers use Apple devices as their primary learning or instructional tool. The Prep has been a one-to-one iPad learning environment since 2014.

"What's important about this recognition from Apple is that it's not just for what we've been doing, but also our vision for the future," said Kerry Gallagher, St. John's assistant principal for teaching and learning. "We employ site-based studies and data-informed reflection to measure our teaching progress with the resources and devices we use, and we make changes or evolve to deliver to our students the skills they need to be successful in jobs of the future, households of the future, and in serving their communities of the future. We're not afraid to adapt to create new opportunities for learning."

Apple specifies that Apple Distinguished Schools be institutions where a technology-rich environment gives faculty and students opportunities to enrich their learning and teaching experiences in ways that wouldn't otherwise be possible. One example of this environment at St. John's might be European History students impersonating historical figures from the Russian Revolution by engaging in a social media-style discussion on a shared virtual bulletin board via the Padlet platform. Another could be students in Latin using the Keynote app to demonstrate their understanding of classical poetry by creating an animated video illustrating the Carthaginian coastline as described in Vergil's Aeneid.

"This recognition by Apple is incredibly rewarding because it acknowledges all the work our teachers have done for nearly a decade to transform the way teaching and learning happens here," said Julie Cremin, an instructional coach at the Prep, and one of only 3,000 mentors worldwide to be certified as an Apple Distinguished Educator. "Our teachers have leaned into professional development and guidance from digital learning specialists to identify the best use of technology to benefit those students at their specific grade level and in their specific content area. We don't want teachers using technology just for the sake of using it, which means we're always looking at what will really enhance the good work that's already happening here."

Apple Distinguished Schools must employ established methods of using Apple technology to design pedagogical approaches that engage students in innovative learning, which is connected, collaborative, creative, and personalized, like these instances above. The Prep's one-to-one iPad learning environment has long been supported by a stand-alone digital learning team, a Center for Teaching and Learning, and a deeply resourced Information Services Department.

As part of its three-year designation through 2025, the Prep will share stories and successes with educators beyond its campus. The school will also host visits by peer institutions in collaboration with Apple Education teams. In addition, school leaders will receive exclusive invitations to leadership events offering opportunities to interact with experts and collaborate with peers who share an interest in sustaining an innovative learning and teaching environment.



CHAD KONECKY IS COMMUNICATIONS SPECIALIST AT ST. JOHN PREPARATORY SCHOOL, AN INCLUSIVE, CATHOLIC, XAVERIAN BROTHERS SPONSORED SCHOOL FOUNDED ON THE XAVERIAN VALUES OF COMPASSION, HUMILITY, SIMPLICITY, TRUST, AND ZEAL. ESTABLISHED IN 1907, ST. JOHN'S OFFERS AN ACADEMICALLY CHALLENGING PROGRAM AND WIDE-RANGING CO-CURRICULAR OPPORTUNITIES FOR STUDENTS TO GROW AND LEARN OUTSIDE THE CLASSROOM. LOCATED ON A 175-ACRE CAMPUS IN DANVERS, MASSACHUSETTS, ST. JOHN'S ENROLLS 1,500 STUDENTS FROM APPROXIMATELY 90 AREA COMMUNITIES.