Reflections of a parent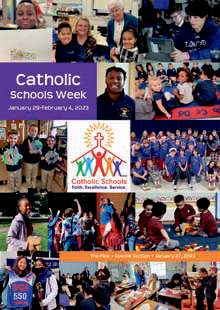 Sparhawk Academy has three foundational maxims: Parents are the primary educators, boys will thrive when entrusted with age-appropriate freedom, and a great education includes formation in virtue. The best measure of our success is parent satisfaction with their family's experience at our school. What follows are the words of a mother of two Sparhawk boys.

We could not be more grateful for the timely opening of Sparhawk Academy. We feel so fortunate to have been a part of these inaugural years and have witnessed remarkable growth in our son. We chose Sparhawk for its unique combination of focus on embodied, experiential learning through ample access to the outdoors and its rigorous intellectual aspirations rooted in spiritual depth. We knew our son both enjoyed and seemed to need time outside to strengthen his moral and intellectual will, and that the beautiful property at Sparhawk would both refresh his spirit daily and further strengthen his appreciation for the natural world. We hoped his powers of observation would be deepened and that his physical energy could be utilized rather than merely disciplined in his school day.

These things indeed happened. We noticed that he came home energized and ready to focus on homework because he already had balanced physical exertion throughout the day. His health was robust, his vigor increased and his visage lifted. Even getting outside in poor weather brought a ruddiness of cheek and sturdiness of constitution that was a delight to behold. He often reported on how his work of clearing the island was going, or what animal tracks he had spotted in the snow on an early morning walk, or about a dead animal found bloated by the river that became the basis for grotesque scientific inquiry. This was the first time our son did not have to compartmentalize his love for being outdoors and physical activity from his idea of school. This dramatically changed his idea of what school was, and what unfolded was, perhaps, the greatest surprise of our time at Sparhawk: he began to express a real love for learning.

Instead of dreading the school day, our son demonstrated a noticeable enthusiasm. While he struggled with the workload initially, with dedication and patience, and well-timed encouragement from faculty, he began to take ownership and pride in his schooling. His perception of schooling shifted: no longer was it merely perfunctory but became a privilege. He, therefore, took greater and greater responsibility for the outcome.

We have loved seeing the way that Sparhawk's commitment to the student's freedom has allowed our son to experience his agency in the classroom and beyond. He has felt trusted and respected simply through having some self-determination throughout the day. From small things like giving the boys their report cards before the parents, we have noted Sparhawk's integrity of vision, repeatedly inviting boys into greater degrees of ownership for their education.

The result has been a tremendous maturity. As parents, we have experienced the real benefit of being able to step back from excessively managing his school experience to allow him to step forward and take the reins. Our input as parents and primary educators is highly valued and supported, yet we share the same mission as the school: we are raising a boy who is soon to be a man. This work is not something anyone can do for him. It is work he must aspire to and take responsibility for himself. We have seen him do just this with the guidance of Sparhawk's vision and the example of the faculty with whom he interacts daily.

Each of his classmates is unique and contributes uniquely to the group. With the small class sizes, this has become a source of enjoyment for all rather than distance and frustration. What can be very isolating and competitive middle school environments has, instead, been unifying: competition between the boys has become a source of inspiration, as each has his own sphere of excellence. We could not be more grateful to have our son be educated at Sparhawk at this vital point in his development. Sparhawk and its faculty have done an exceptional job getting this school off the ground with commitment and vision. It will remain a most memorable chapter in our son's life, and will, no doubt, impact the rest of his spiritual and intellectual growth for many years to come.



BOB SYLVAIN IS HEAD OF SCHOOL (BSYLVAIN@SPARHAWKACADEMY.ORG OR 617-727-4295) AT SPARHAWK ACADEMY IN MILLIS, AN INDEPENDENT SCHOOL FOR BOYS GRADE THREE THROUGH GRADE EIGHT SERVING 84 BOYS FROM 29 COMMUNITIES.