Local
From Cardinal Seán's blog
By
Posted: 9/16/2011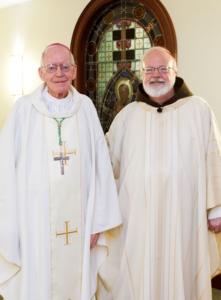 '... this week we were especially happy to have Bishop Bill McNaughton with us Tuesday (9/6), as we marked the 50th anniversary of his episcopal ordination at the Pastoral Center.' Pilot photo/CardinalSeansBlog.org
---
Just as we recently had the opening Mass at St. John's Seminary, the Blessed John XXIII National Seminary community initiated their academic year with a celebration of the Mass of the Holy Spirit last Friday (9/2), with the presence of the rector and the faculty, the vocation directors and the student body.

As the name implies, Blessed John XXIII is a national seminary for those who are pursuing a "second career" or late-life vocation. The majority of these seminarians are from other dioceses, but there are several studying for Boston. Our archdiocese continues this initiative of Cardinal Richard Cushing who was inspired by the words of Blessed Pope John XXIII who said that a vocation can come at any time in a person's life. Cardinal Cushing founded the seminary and named it in honor of Pope John XXIII.

We are very proud of the excellent service that this seminary, which belongs to the Archdiocese of Boston, provides for the Church throughout the United States. It has served countless dioceses. In the four dioceses where I served as bishop, I had wonderful priests who were all graduates of Blessed Pope John XXIII. They were outstanding pastors and functioned in many important roles. I know that countless bishops share the same gratitude to this seminary. And of course we're very grateful to Father Bill Palardy for accepting the rectorship, replacing Bishop Peter Uglietto.

Priest's Cookout at St. Brigid

Of course this week we celebrated Labor Day, and what is Labor Day without a cookout?

Each year Father Bob Casey and the good people of St. Brigid Parish in South Boston sponsor a cookout for priests and it's always very, very well attended.

The new Vicar General, Msgr. Bob Deeley, joined us for the event and many of the priests from Regina Cleri were also part of the celebration.

I was very happy that they had a good old fashioned cookout with hot dogs and hamburgers. Sometimes you get to the cookouts and they are serving fancy food, and it's just not the same! But it was a wonderful event and the weather was overcast, but the rains held off and everyone had a great time.



Bishop McNaughton Anniversary

... this week we were especially happy to have Bishop Bill McNaughton with us Tuesday (9/6), as we marked the 50th anniversary of his episcopal ordination at the Pastoral Center.

We have the joy and privilege of the presence of Bishop McNaughton, who is a Maryknoll missionary from Lawrence and the retired bishop of Incheon in Korea. As a young priest he was sent off to be a missionary in Korea and a founding bishop of a diocese there.

... I celebrated the Mass and Bishop McNaughton preached. In his preaching he talked about his vocation and experience. He said that he was ordained a bishop at St. Mary's in Lawrence by Cardinal Cushing who, he said, gave him $10,000 to start his new diocese.

He told us it was an 18 day trip from California to Korea on a freighter and 16 of the days there was fog and the fog horn went off every three minutes! And he said he kept thinking along the way, "Why didn't I become a diocesan priest and I could have stayed in Boston?"

But he said when he got to Korea that he fell in love with the people and had an extraordinary experience there as their bishop. He also attended all of the sessions of the Second Vatican Council.

Now, in his retirement, he has returned to live in the archdiocese and helps us with confirmations and also helps out with the ministry to the Korean Catholic community.