Local
From Cardinal Seán's blog
By
Posted: 5/31/2013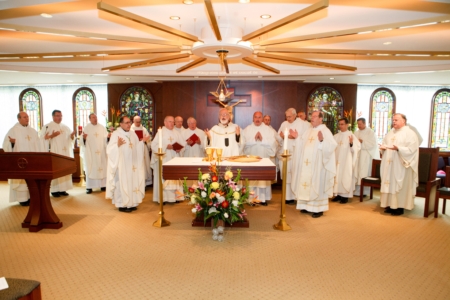 'Wednesday, we invited those priests in the archdiocese who are celebrating their Silver Jubilee of ordination to join us for Mass and luncheon at the Pastoral Center.' Pilot photo/CardinalSeansBlog.org
---
Last Friday (5/17), the Parents Alliance for Catholic Education known as PACE had a gathering at the Pastoral Center to unveil their new poster. PACE is the organization of parents of Catholic school students. ...Each year, PACE develops a new poster to raise awareness of the organization featuring a Catholic school from one of the four dioceses in Massachusetts. This year, it was the Archdiocese of Boston's turn and the school they selected to work with was the new St. Joseph's Academy in Brighton. Two of their students were featured on the poster and they were there for the unveiling along with the teacher who helped design it.

Marist Fathers 150th Anniversary

On Sunday (5/19), I went to Our Lady of Victories in Boston for the Mass to celebrate the 150th anniversary of the Marist Fathers' presence in America. In fact, they have been at Our Lady of Victories for most of that time, over 100 years. The Marists were founded in France, and because of the number of French Canadians present in New England, they have had a very long and important ministry here. The provincial, Father Ted Keating, gave the homily, which was a very beautiful reflection on the mission of the Marists. He said their national presence, even though it has continued for 150 years has been very subdued, because that is part of their spirituality. Mary, though constantly present, was always in the background. For that reason, he said, they are mostly known only in the local communities where they serve. He also spoke about the gifts of religious life.

Brazilian confirmations

From there, I came back to the Cathedral to celebrate confirmations for the Brazilian community in the archdiocese. It is always a wonderful event which brings adolescents and young adults from all the various Brazilian Mass communities together. The Brazilian community is one of our larger immigrant communities. Of course, the music is very energetic and enthusiastic! I was very pleased to be able to celebrate the confirmations with them. Many of the priests and sisters who are serving the Brazilian community were also able to be with us.

Medeiros Scholarships

On Monday (5/20), I attended the awarding of the Medeiros Scholarships at Boston University. The scholarship has been awarded for a number of years. It was begun by President John Silber to honor Cardinal Medeiros. Every year they give about a dozen full four-year scholarships to graduates from Catholic high schools in the archdiocese. To date, they have given out about 400 scholarships with a total value of about $42 million. This year's scholarships alone are worth $2 million. Obviously, the parents and students are very, very grateful. We also are grateful to the University for doing this for our Catholic school graduates. University Provost Jean Morrison made the presentations of the scholarships and then invited me to say a few words. The ceremony was also an opportunity for me to present the new Catholic chaplain at Boston University, Father David Barnes who will be taking over for Msgr. John McLaughlin who will now be working at St. John's Seminary. We are so grateful for the fine work that Msgr. McLaughlin has done and we are sure Father Barnes will continue that.

Mass with priest jubilarians

Wednesday (5/22), we invited those priests in the archdiocese who are celebrating their Silver Jubilee of ordination to join us for Mass and luncheon at the Pastoral Center. We were very happy to be able to thank God for their vocations and thank them for their fidelity, generosity and service to God's people. With us were Fathers Robert W. Murray, Gerard Petringa, Charles J. Higgins, James M. DiPerri, Bryan K. Parrish, Michael B. Medas, Francisco J. Anzoategui, Francis E. Sullivan, Miroslaw Kowalczyck, FDP, Stephen J. Madden, Brian J. McHugh.