Obituary
Obituary: Father Richard J. Perron, long time Brockton pastor, dies at 94
By Father Robert M. O'Grady
Posted: 6/5/2015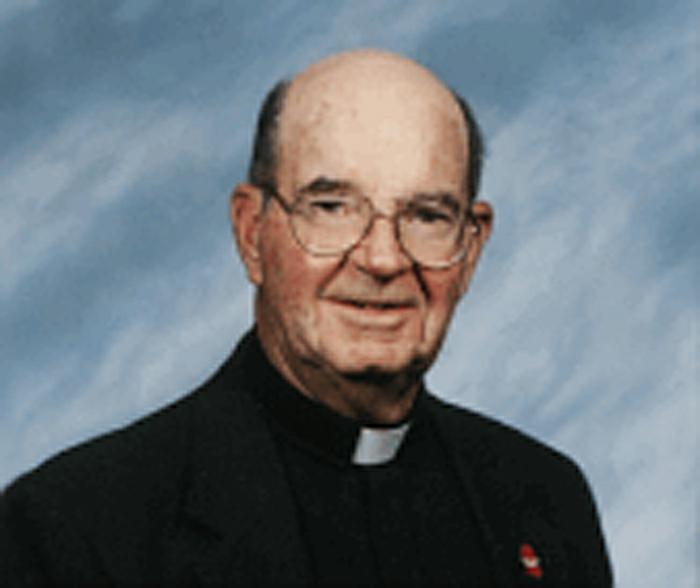 Father Richard J. Perron Pilot file photo
---
When he died on May 25, Father Richard J. Perron was the second oldest priest of the archdiocese, only Msgr. Paul McManus at 98 is older, and the third most senior priest; the two more senior are Msgr. McManus, and Father Joseph LaRaia who with Father Perron's death is the last remaining member of St. John's Seminary Class of 1946.

A Salem native, Richard J. Perron was born in the Witch City on April 26, 1921; he was one of the four children of the late Joseph and Emma (Richard) Perron. An alumnus of Assumption College in Worcester and St. John's Seminary, Brighton, he was ordained at Holy Cross Cathedral on June 14, 1946 by Archbishop Richard J. Cushing.

Coming from a proud Franco-American family, Father Perron was fluent in French. Save for one parish assignment, all of his priestly ministry was in French personal parishes of the archdiocese, beginning his very first at St. Alphonse in Beverly which was then walking distance from his family in neighboring Salem.

His next assignment was to the one parish that was not French personal, St. Anthony of Padua in Shirley, which had a very large French Canadian population. In 1948 he was assigned as Chaplain of the House of the Angel Guardian in Roxbury, then an almost century old foundation that cared for destitute orphaned boys from Boston's South End and Roxbury sections.

In 1949 he returned to parish life as an assistant at St. Mary (French) Parish, Marlborough and in 1954 at Sacred Heart (French) Parish in Amesbury and in 1964 as assistant at Assumption (French) Parish in Bellingham.

On Feb. 6, 1973, Cardinal-designate Humberto Medeiros named him pastor of Sacred Heart (French) parish in Brockton. This would be the longest, single assignment of Father Perron's active priestly ministry serving the Brockton parish until retirement on July 1, 1991.

He has been living in retirement in his native Salem for almost the past quarter century.

His funeral Mass was celebrated at Our Lady Star of the Sea Church in Marblehead on June 9 with that parish's pastor, Father Michael Steele as the homilist. He is survived by his sister, Grace Brennan of Salem. Following the Funeral Mass Father Perron was buried in St. Mary Cemetery, Salem.