Local
Cardinal celebrates New Year with Haitian community
By Mark Labbe
Posted: 1/8/2016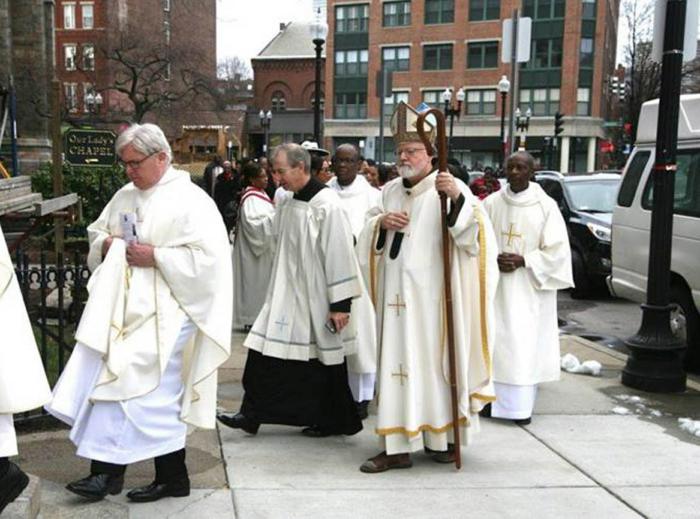 Cardinal O'Malley leads a procession through the cathedral's Holy Door of Mercy to begin the New Year's Day Mass with members of the Boston Haitian community. Pilot photo/courtesy Father Jean Gustave Miracle
---
SOUTH END -- For the Haitian community in Boston, Jan. 1 wasn't just a day to celebrate the New Year, it was also the day to celebrate Haiti's 212 years of independence and attend a special Mass said by Cardinal Seán P. O'Malley at the Cathedral of the Holy Cross.

An annual tradition in the archdiocese, the Mass, celebrated in French and Haitian Creole, honors the day Haiti gained its independence from France, on Jan. 1, 1804. The Consul General of Haiti in Boston, Farah Chatelier, was a special guest at the Mass.

Lorna DesRoses, Coordinator of Black Catholic Ministries for the archdiocese, spoke to The Pilot about the Mass Jan. 6.

She noted that Cardinal O'Malley "touched upon the Year of Mercy" in his homily, which was said in French. The cardinal also "quoted from a letter of the episcopal conference in Haiti," and DesRoses said that she had the impression that the homily was "very well received."

In keeping with the annual tradition, the Mass concluded with the singing of the Te Deum, a Latin hymn of praise and the Haitian National Anthem.

At the conclusion of the Mass, coordinator for the Haitian Apostolate, Father Garcia Breneville, spoke about Haiti's past and future.

"We Haitians are proud of our being the first black nation of the world and the second independent country in the Americas after the United States," said Father Breneville.

He said that despite current turmoil in Haiti, the Haitian population is "not discouraged."

"We hope against all hope. We continue to struggle for peace, dignity and well-being for our people, and we rely on the God of life and mercy to keep moving forward. For throughout our tumultuous history, God has never abandoned us," he said.

Following the Mass those in attendance were invited to a reception in the cathedral hall.