Local
Boston women religious witness to plague of human trafficking
By Mark Labbe
Posted: 1/15/2016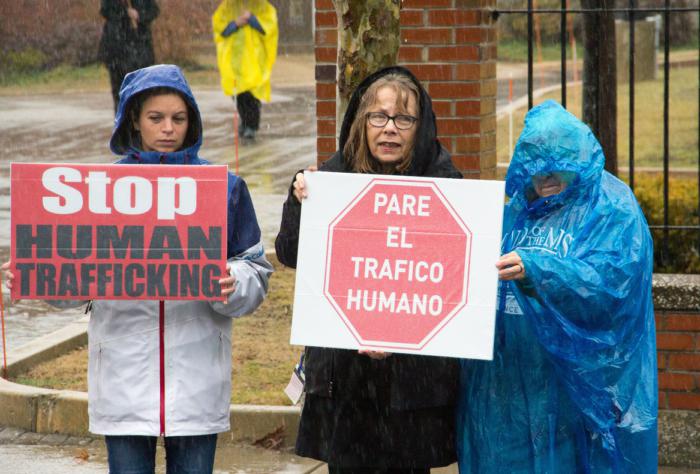 Participants in the Jan. 10 prayer service for an end to human trafficking brave pouring rain to hold signs on Cambridge Street in Brighton. Pilot photo/Mark Labbe
---
BRIGHTON -- Catholic Sisters in the Greater Boston area gathered at the Sisters of St. Joseph Motherhouse Chapel in Brighton, Jan. 10, to pray for the end of human trafficking.

"In prayer and silent vigil we stand with and for those children, women, and men exploited for labor and for sex through the evil of modern-day slavery which we call human trafficking," said Sister Ellen Powers, CSJ in her opening remarks.

In 2007, the U.S. Senate designated Jan. 11 as National Human Trafficking Awareness Day. Although the Awareness Day is a U.S. initiative, the United Nations has also highlighted this topic because of its global reach.

"It is heartening to know we do not stand alone. In cities across the country similar groups gather in solidarity, in prayer, in keeping vigil this weekend. We are also heartened by the efforts of many individuals and civic and faith leaders," Sister Ellen said.

"We believe that in addition to words and actions, prayer and silent vigil are powerful tools to change, to eradicate, human trafficking," she said.

According to a U.S. Department of State report entitled "Trafficking of Persons Report," published July 2015, the terms "'Trafficking in persons,' 'human trafficking,' and 'modern slavery' have been used as umbrella terms for the act of recruiting, harboring, transporting, providing, or obtaining a person for compelled labor or commercial sex acts through the use of force, fraud, or coercion."

"For the estimated 20 to 30 million slaves in the world today who have been bought or sold or kidnapped, we pray," said Sister Mary Lou Simcoe, SUSC during a prayer.

In the middle of the service, a silent prayer vigil was held outside in the pouring rain.

Those who participated stood at the edge of Cambridge Street holding signs reading "Stop Human Trafficking" in both English and Spanish.

Near the end of the service, Sister Betsy Goodwin, OSF noted some of the newer ways human trafficking is being combatted, highlighting both local and worldwide efforts from Church and state authorities.

"There are signs of hope, and it's just good to know that its effort, its support, its raising awareness, and our group obviously believes that it's prayer as well," Sister Betsy said.

The service finished with a closing prayer and song, and those in attendance were asked to donate to the Bakhita House. The Bakhita House, a safe house for women who are victims of human trafficking in the greater Boston area, was founded by the Leadership Conference of Women Religious in Boston. A staff of four religious sisters and over 30 volunteers keep the house running.