Local
Forming the Future: Sacred Heart School, Roslindale
By Donis Tracy Pilot Correspondent
Posted: 1/22/2016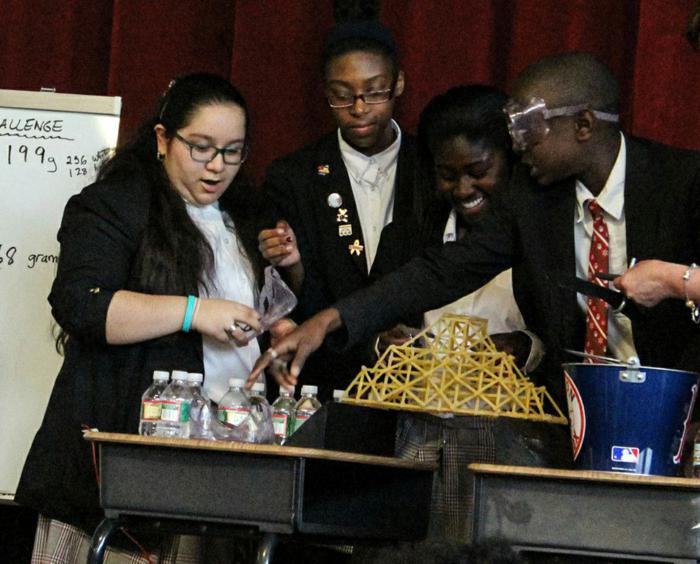 As part of Sacred Heart School in Roslindale's STREAM program, 7th grade students at work on creating a functional bridge using only pasta. Courtesy photo
---
ROSLINDALE -- Imagine you are travelling to a remote village in a tropical rainforest, delivering critically needed medicine. The closest airport is a two-hour hike away, and you must design a medicine carrier that will keep the medicine at an exact temperature, less the medicine becomes useless.

Eighth grade students at Sacred Heart Elementary School in Roslindale have taken this hypothetical puzzle and are currently constructing these medicine carriers as part of the school's Science, Technology, Religion, Engineering, Art and Mathematics (STREAM) curriculum. Under the leadership of Patricia Girvan, the school's math and science teacher for the seventh and eighth grade, students use real-life scenarios, such as in the case of the medicine carrier, to delve into topics like science, research methods and engineering.

"We try to bring to life these subjects," Girvan explained, "so that our students can relate to what we are studying."

According to Girvan, two years ago the school implemented a new science curriculum with the help of the Gateway Project, run by the Museum of Science in Boston.

According to its website, the Gateway Project, "assists school districts in developing a strategic plan of action to implement rigorous and engaging technology and engineering programs."

A team of teachers from the school attend workshops, receive materials, and learn from the Gateway Project and in turn relay that information to the school, Girvan explained. She is currently the school's Gateway Leadership Team leader.

"Every grade does a new STREAM project each term and, at the end of the year, we hold a showcase," Girvan said. "It is similar to a science fair, where the students feature what they have worked on all year."

"Many families come, and even people from the wider community attend the showcase," she said. "It's a lot of fun."

Bringing the STREAM curriculum to life is "something I am very much interested in," she said, noting that she has taken several post-graduate classes at Northeastern University that focus on teaching science, math and engineering to elementary school children.

"I think our STREAM curriculum is very much in keeping with our school's motto: DREAM BIG," she said, noting that the motto is an acronym for "Determination, Respect, Excellence, Accountability and Masters all in Belief in God."

For Girvan who has taught at Sacred Heart School for 18 years, the school is more than just her job. A graduate of the school herself, she is one of four generations who have attendedv Sacred Heart: her father is an alumnus, her children are alumnae and her grandchild is currently in the first grade.

"This is a great place," she said. "It is a rigorous environment for scholars, with a strong Catholic identity, but it's also a very comfortable school."