Local
From Cardinal Seán's blog
By
Posted: 1/29/2016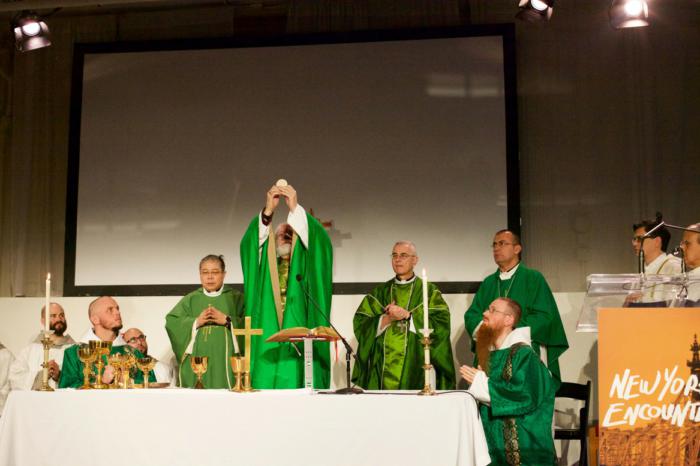 '...I took part in the New York Encounter, which draws a lot of people from Boston who are involved with the movement of Communion and Liberation... I celebrated the Mass for them on Sunday morning.' Pilot photo/CardinalsSeansBlog.org
---
...I took part in the New York Encounter, which draws a lot of people from Boston who are involved with the movement of Communion and Liberation.

The event brings together many people, particularly young adults, around a particular cultural or religious theme. It is fashioned after what is called "Il Meeting" held every year in Rimini Italy, which brings in over 1 million people. In fact, it is the largest cultural event in Italy. Each year they have a different theme for the gathering. This year it was "Longing for the Sea and yet not afraid."

They had, among other things, an exhibit on the persecution of Christians throughout the world. The Archbishop of Mosul in Iraq was there with us and also the papal nuncio to the United Nations Msgr. Bernardito Auza who did such an astounding job in Haiti after the earthquake. As the Papal Nuncio to the United Nations he was very much involved in the Paris climate conference. The talk I participated in was held Saturday and was on the topic of Laudato Si'. It was a panel of three speakers: myself; Jeffrey Sachs, who is the director of the Earth Institute at Columbia University; and Rebecca Vitz Cherico of Villanova University was the moderator.

In addition to my Saturday (1/16) talk, I celebrated the Mass for them on Sunday morning.

Martin Luther King Day

Monday (1/18) was, of course, Martin Luther King Day and at a time that our country is more aware of racial tensions than we have been, Martin Luther King Day is a very important moment to reflect on the message of his life and the importance of working for racial harmony and respect in our communities. We want to assure everyone that black lives do matter in America just as much as any other life. We realize there are so many economic and educational challenges that the black community faces in the United States, but the idealism and the challenge of Martin Luther King is to work together to create the kind of society where there is respect, love and a sense of equality and dignity.

Visit from Father Hartley

Also that day I met with a priest friend of mine who was visiting from Ethiopia, Father Christopher Hartley. He is a priest of the diocese of Toledo, Spain and he worked with the sisters of Mother Teresa in India; he has also worked with the Haitians in Santo Domingo, and he is now working in Ethiopia.

Father Christopher works in a challenging part of Ethiopia that is near Sudan. There is a lot of desert there and it is a very heavily Muslim area and he is 700 miles from the nearest priest though he does have the Sisters of Charity who work there. He brought me this gift made by one of the sisters in Ethiopia -- a beautiful image of Mother Teresa painted on a piece of tree bark. They are, or course, very excited and happy with the impending canonization of Mother Teresa.

In Washington

Tuesday (1/19), I headed down to Washington D.C. for meetings at the Catholic University of America and to prepare for the events around the March for Life.

As many of you are I am sure aware, a number of groups from Boston, including the group of young people led by Father Matt Williams, were unable to make the trip this year to the March for life. Because there is not much snow here in Washington, the city does not own the equipment for snow removal that northern cities have, so it only takes a rumor of a snowstorm to paralyze The United States. However, as I write this, the snowstorm is moving in and it does appear that it will be as bad as predicted. So, a number of groups in Boston decided it would be just too risky to make the return trip.

However, I was heartened to see there were a number of buses that managed to come, including a large group led by the Franciscans of the Primitive Observance with people from East Boston, Lynn and Lawrence as well as our seminarians from St. John's Seminary and the Redemptoris Mater Seminary.