Local
Doctor-prescribed suicide addressed at MCFL Assembly for Life
By Mark Labbe
Posted: 1/29/2016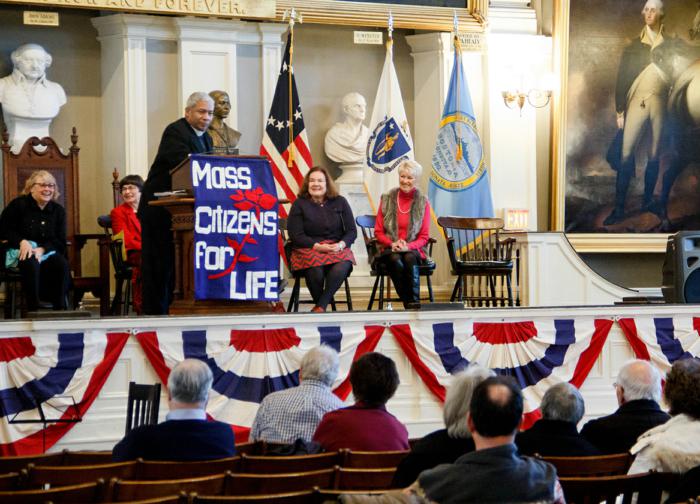 Rev. Eugene Rivers III addresses the Interfaith Assembly for Life Jan. 24 at Faneuil Hall. Pilot photo/Mark Labbe
---
BOSTON -- In spite of several inches of snowfall in the Boston area the day before, Massachusetts Citizens for Life (MCFL) held its 43rd annual Interfaith Assembly for Life, Jan. 24, at Faneuil Hall.

Speakers at the two hour long event included Bishop Arthur L. Kennedy, Rev. Toni Kim, Don Feder, Pauline Morris, and Rev. Eugene F. Rivers III. Live music was provided by Patricia and Erik Anthony and Helen Cross, and Jeanine Graf acted as the emcee.

In addition to the traditional theme of abortion, a number of speakers at this year's assembly spoke about the dangers of the growing trend of legalized doctor-prescribed suicide.

Following a welcome by MCFL president Anne Fox, Bishop Kennedy, episcopal vicar of the New Evangelization of the archdiocese, spoke on the growing acceptance of assisted suicide, to the point where many now see it as a "right."

Drawing on the examples of the patriarch Joseph, the philosophers Aristotle and Plato, and the saints, he said they offer "mega-narratives" to society on seeing the world through the eyes of faith, the tragedy of suicide and the ability to find meaning in suffering.

Today, he said, society has rejected these long held values.

"We have to help our young people come to understand what our mega-stories have revealed to us, so that we can be able to help them to understand the ways in which they can marshal their energies in a culture that continues to try to replace everything with its own stories," he said.

Bishop Kennedy also praised the work of Project Rachel, a Church-run organization that helps men and women who are hurting form past abortions.

"Project Rachel is one of those very important things that helps women who have been through that, and not just women, but men who have been involved" as well, he said.

Rev. Toni Kim, the Minister of Membership at Park Street Church in Boston, spoke next, and told those in attendance a personal story about a friend who was diagnosed with terminal cancer while she was pregnant.

Doctors told her friend and her husband that the baby, if it survived, would have developmental issues. The friend, who was told she only had a few months left to live, considered taking both her and her unborn baby's life via doctor-prescribed suicide.

Rev. Kim described how that process might have gone, saying people are allowed to get pills that would end their lives without informing their loved ones.

"She can then get the prescription filled by herself and self-administer this medication with nobody else present," Kim said.

"She will have signed something that said 'I understand that although most death occurs within three hours, my death may take longer.' You will never know how long it took for death to come, or what those final moments were like... your loved one will have suffered and died alone," she continued.

However, Rev. Kim's friend did not commit suicide, the doctors were wrong about her baby. Although her friend died only months after receiving the diagnosis, her baby was born at 27 weeks, and is now a happy and healthy little girl.

Pauline Morris, coordinator of the 40 Days for Life campaign in Worcester, also shared a personal story.

She said that at the age of 31, her husband committed suicide by shooting himself in their bed, leaving her take care for their four young children.

After countless trips to a counselor, she was told her husband's death will forever affect her children, and said the "Loss was forever visible in their eyes."

Morris said suicide, whether it is through a doctor or otherwise, is never dignified, and leaves loved ones grieving and feeling guilty and hurt -- and those feelings never go away, she said.

"Time does not heal the wounds of suicide, the act is never, ever over for those who are left behind," said Morris.

In his remarks, Don Feder, columnist and coalition director and coordinator of Regional Conferences of the World Congress of Families, discussed the continuously falling birthrates around the world, and voiced concerns that there will be more seniors in the world than younger generations will be able to support.

He said that, out of convenience or economic need, doctor-prescribed suicide could morph into mandatory suicide, and individuals need to stand up to it now to prevent that.

The last featured speaker of the night, Rev. Eugene F. Rivers, III, pastor of the Azusa Christian Community, gave an impassioned address on how both abortions and doctor-prescribed suicide are most harmful to the poor.

"Doctor-prescribed suicide was little more than a political hypodermic needle used to dispose of the black, brown, and the poor," Rev. Rivers said.

Following his remarks, Father David Mullen, pastor of St. Brendan Parish in Bellingham, gave a concluding address, and ended the event with a prayer.

Father Andrew Beauregard, FPO, attended the assembly and told The Pilot he did so to show his "support to defend the right to life from conception to natural death."

He said Rivers "helped reframe the argument" by saying that this is a "war against the poor."

Rivers's talk helped "recognize we are here to defend the poor" and "unmask the false compassion that's out there," Father Beauregard said.