Local
From Cardinal Seán's blog
By
Posted: 2/5/2016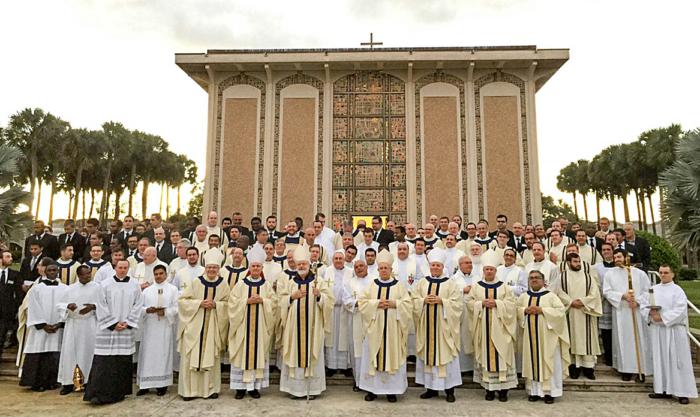 'I was able to take my flight in time to get to St. Vincent de Paul Seminary in Boynton Beach, Florida, in my former diocese of Palm Beach.' Pilot photo/CardinalSeansBlog.org
---
As I left off last week, we were about to take part in the March for Life.

Although, because of the snowstorm, the Witness to Life Pilgrimage led by Father Matt Williams had to cancel their trip for many of our young people, I was very gratified that we still had many busloads of people able to come to the March for Life as well as our seminarians from St. John's Seminary and Redemptoris Mater Seminary.

As I always do, I gathered with those from Boston in the morning before the March. There were about 500 people there with us at Sacred Heart, a parish where I had worked as a priest and is now in the care of the Capuchin Friars.

The March for Life

... Following the Mass, we went down to the National Mall to join in the March for Life.

Despite the threat of the weather -- because the snow didn't really start until the March was already underway -- there was a very good crowd.

I think that the witness and the testimony of the March for Life is always stronger when people see how many thousands of people turn out, despite difficulties and challenges of weather.

A blessing to be snowed-in

... Though we did manage to make it through the March for Life without too much snow, that didn't prevent me from being snowed-in with the rest of the people in Washington afterwards.

We received nearly 3 feet by the time the storm ended, and for Washington that's just a phenomenal amount of snow.

As I often say, Washington is a city that is paralyzed when there is even a rumor of snow. It doesn't even take one flake to have things start shutting down. So, 3 feet was really very debilitating and a lot of people were stranded in the city for the weekend.

However, I was blessed to be at the Capuchin monastery with the Friars. It's like a retreat for me to be able to be with the Friars, pray with them and experience their fraternity.

It's a wonderful community and I always enjoy being with them, so this was a blessing that came out of the snowstorm for me.

St. Vincent de Paul Seminary

By Monday morning we were dug out and I was able to take my flight in time to get to St. Vincent de Paul Seminary in Boynton Beach, Florida, in my former diocese of Palm Beach. There, I celebrated the Mass with a number of bishops, priests and friends in the seminary to mark the 50th anniversary of the dedication of their chapel.

Following the Mass, I joined them for the dinner they held for priest alumni and friends of the seminary. I also gave the keynote address that evening on the joys and the challenges of the priesthood.