Local
Ashes distributed on Boston Common
By Mark Labbe
Posted: 2/12/2016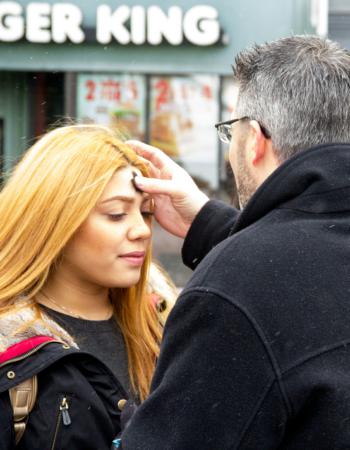 A woman receives ashes on Ash Wednesday, Feb. 10, from Father Matt Williams on Boston Common. Pilot photo/Mark Labbe
---
BOSTON -- Priests and staff from the Archdiocese of Boston took Pope Francis's call for the Church to "go into the streets" literally when they distributed ashes on Boston Common Ash Wednesday, Feb. 10.

In an email to The Pilot, Jan. 9, Father Jonathan Gaspar, Director of Divine Worship at the archdiocese, wrote that the initiative helps those who might not have normally gone to church on Ash Wednesday.

"Perhaps they've fallen away from their faith through the years, or they never really practiced their faith. We want to be a sign to them that the Church is there to welcome them back home," he said.

From 8 to 10 a.m., and again from 4 to 6 p.m., priests and staff of the archdiocese stood outside the Park Street T Station on Boston Common and distributed ashes as a staff member held a sign on a long pole reading "Ashes Here for Ash Wednesday."

Father Paul Soper, Secretary for Evangelization and Discipleship, helped distribute the ashes, and told The Pilot that the decision to undergo this initiative was partially sparked by the Year of Mercy.

"The Lenten season is very connected to the theme of mercy, and so we are trying to be very public in calling the people of the world to the sacraments of mercy, and a way of marking ourselves off as being people who are seeking the words of mercy is by the wearing of ashes," he said.

Father Soper continued by saying that ashes are a "penitential sign" and a way for people to "know that we are all constantly in need of God's mercy."

One passerby who received ashes, Jason Fitzgerald, said that he didn't know where he would be able to get his ashes, until he saw the priests standing on Boston Common.

"I think it's good to see the Catholic faith out on the street," he said.

Patrick Hichock also received ashes, and told The Pilot the initiative is "inspiring."

"I've never seen anything like this before. I think it's wonderful, I think it's beautiful," he said.