Local
From Cardinal Seán's blog
By
Posted: 3/11/2016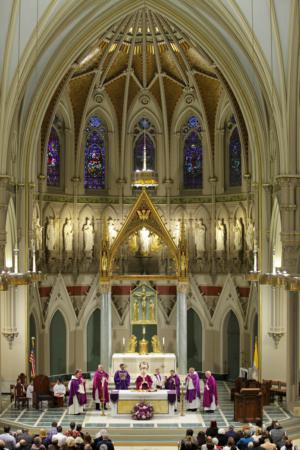 'Saturday (2/27), I visited Immaculate Conception in Lowell to celebrate a Mass to mark the completion of their church restorations.' Pilot photo/CardinalSeansBlog.org
---
I want to begin this week saying how sad I was to hear the news that four Missionaries of Charity were killed together with another 12 people when terrorists attacked their convent in Yemen. I ask that you join me in praying for the many Catholic missionaries who are risking their lives every day in countries where they are targeted for practicing the works of mercy.

Mass in Lowell

Saturday (2/27), I visited Immaculate Conception in Lowell to celebrate a Mass to mark the completion of their church restorations. Immaculate Conception is one of the grand churches we have in the archdiocese but, unfortunately, because of very serious structural problems, we were in danger of possibly having to close the church. (It's always sad to have to close a church but, when the church is that monumental, it is truly tragic.) In fact, for a long time, Mass had to be celebrated in the church basement. However, thanks to the dedication and incredible energy of Father Nick Sannella, the church has been saved. We were joined by a full church of people from Lowell, who are so proud and grateful that this landmark for their Church and their city has been saved. The Oblates of Mary Immaculate had staffed that church for many years and we were very happy that the former pastor, Father John Hanley, was also able to be with us for the occasion. I'm sure the Oblates are also very happy to see the church rescued.

Visit to Northeastern University

On Sunday (2/28), I visited the Catholic Center at Northeastern University to celebrate Mass with the students and the campus ministers from the Brotherhood of Hope: Father Paul Helfrich, Father Sam and Brother Logan. They have a very active campus ministry there that takes in not just Northeastern, but also many of the other colleges in the Fenway area. After the Mass, there was a reception at which I was able to meet and speak with some of the students. I was very pleased to see that several students had been in our vocation discernment retreat that I mentioned last week.

Catholic University of Portugal meeting

On Tuesday (3/1), I went to St. Anthony's Parish in Cambridge, for a visit by officials of the Universidade Catolica Portuguesa (The Catholic University of Portugal).

...My visit to St. Anthony's was an occasion to celebrate a Mass for Cardinal Medeiros and all the benefactors and friends of the university and also for the group from the university to announce their desire to once again strengthen their ties with the Luso-American community. To that end, they have started a scholarship program that will present five full scholarships to Portuguese Americans who would like to study at the Catholic University of Portugal. At the Mass, we were joined by the Portuguese consul and a number of elected officials. It was a beautiful celebration. St. Anthony's has a magnificent choir that sang for us. They presented us with a beautiful statue of Nossa Senhora da Sabedoria that is a replica of a medieval statue that is in the chapel of the Catholic University.

St. Anthony's, which has traditionally been an Azorean Portuguese community, has expanded their ministry to the Brazilian community of late, and now there is a very strong Brazilian community there. So, during my visit, representatives of a couple of Brazilian parish groups came to greet me. The first was a community in the parish called Shalom. There was also another group called the Men of the Rosary, Terco dos Homens. They all wear a shirt with the picture of the Blessed Mother on it.