Local
Accessibility assistance helps deaf community participate in 'Young Messiah' premier
By Megan Clancy Special to The Pilot
Posted: 3/18/2016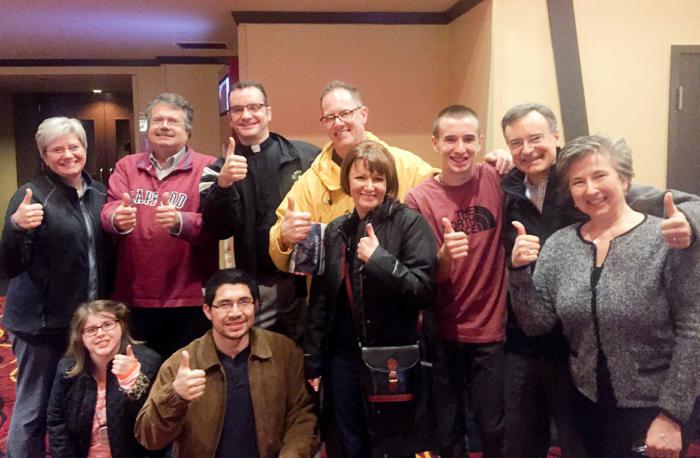 Member of the archdiocese's Deaf Catholic Community are pictured at the premier of 'The Young Messiah' Framingham AMC Theater March 10. Courtesy photo
---
FRAMINGHAM -- Members of the Deaf Catholic community attended the Boston premiere for "The Young Messiah" March 10 at the Framingham AMC Theaters -- with the accessibility of closed captioning and American Sign Language interpreting.

"The Young Messiah," released by 7Focus Features, is a faith-based film, directed by Cyrus Nowrasteh, that focuses on the life of Jesus when he was a young child growing up in Nazareth.

The Propagation of the Faith and Motive Entertainment arranged the premiere, which showed the film on 16 screens at the Framingham AMC Theater.

Father Shawn Carey, director of the Office of the Deaf Apostolate for Archdiocese of Boston, being completely deaf himself, made sure that his deaf parishioners had access to the film with the help of closed captioning. He and other deaf attendees appreciated the accessibility they had at the Boston premiere.

Alexis Walkenstein and Nicole Lataif from Motive Entertainment and Framingham AMC General Manager Jim O'Toole worked together to retrieve closed captioning devices for attendees with hearing loss to use at the screening.

"'The Young Messiah' was a very touching and educational movie. It portrayed Jesus as a normal 7 year old boy with his family. I felt a connection with Mary, Jesus' mother. I am a mother also," said Cheryl Johnston, a deaf parent of a deaf daughter.

Father Carey also said he was struck by the scene of the film in which Mary asks God why she was chosen to be Jesus' mother -- as she feels that she was not strong enough to carry the duty.

"This scene shows that Mary is a human being with a typical way of human thinking," Father Carey said. "We must serve God, and he will provide what we need. This is a movie that everyone could relate to -- since all of us had a childhood."

Another Deaf attendee, Tina Scarpati, also added that the film encouraged to her think more about Jesus' childhood. "This film really grasps the young Lord's 'experience' as a child back then. I cannot imagine living during that period," Scarpati said.