Local
Embrace media, participants are told at Co-Workers Conference
By Mark Labbe Pilot Staff
Posted: 4/8/2016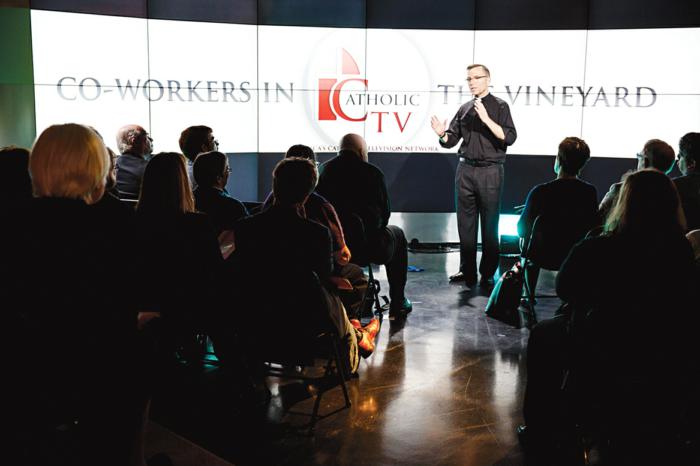 Father Robert Reed speaks to Co-Workers participants in the CatholicTV studios. Pilot photo/Gregory L. Tracy
---
WATERTOWN -- Prominent members of the Catholic media organizations offered talks on their work and advice on how to use media to evangelize during the 2016 Co-Workers in the Vineyard Conference, April 1, entitled "The Pope Francis Effect and Media: Pastoral Applications for Evangelization and Discipleship."

An annual event sponsored by St. John's Seminary in Brighton, the conference is a day-long opportunity for enrichment geared toward clergy, religious, lay leadership and pastoral workers.

Held in St. Patrick Church in Watertown, the conference began with a Mass celebrated by Cardinal Seán P. O'Malley, who began by acknowledging the recent death of Eternal Word Television Network founder Mother Angelica, whose funeral was about to be held in Alabama.

"Mother Angelica is quite a legend in our world, a very feisty religious woman who has made an extraordinary impact and contribution to the world of communications," he said.

Following the Mass, CEO of Salt and Light Catholic Media Foundation in Toronto, Canada, Father Thomas Rosica and Salt and Light producer Sebastian Gomes, offered the first of the day's two keynote addresses.

In his remarks, Father Rosica discussed the importance of being open to contemporary media, rather than trying to hide from it.

"Rather than fleeing the confusion and the ambiguity of our age in hiding in the nostalgia of the past that is now buried in the heart and the mind of God, some of us have to remain in the city, in the present, in the thick of things, offering the world an unambiguous message of the Gospel, the teaching of the Church, a ray of hope, and a dose of badly needed joy," he said.

Despite contemporary media having "negative aspects" to it, "it's not inherently evil or sinful," he said.

"Putting energy and creativity into positive expressions will help build a more humane media environment that's what Jesus did," said Father Rosica.

He noted that Jesus was the "ultimate communicator."

"Jesus bonded himself to the unclean, the sick, the dying, the sinners, and those who were living on the fringes of society... never condoning their behavior, but inviting them to an alternative lifestyle," he said.

"He teaches us that by being with people, he also heals, restores, renews, and reconciles broken humanity," Father Rosica continued, and noted that Pope Francis is doing the same.

Speaking separately, Gomes offered a short talk that focused on what Pope Francis can teach Catholics about modern evangelization.

Father Robert Reed, president and CEO of iCatholic Media, the parent company of CatholicTV and The Pilot, offered the day's second keynote, in which he offered suggestions on how people can metaphorically bring Pope Francis to their parishes or campuses, entitled "20 Ways That You Can Bring Pope Francis to Your Place."

Suggestions include praying for others, insisting on "good music," asking for mercy and going to confession, and simply smiling at others. However, Father Reed noted that one of the surest ways to bring Pope Francis "closer to home" is to work on building bridges with "other Christian communities, Jewish communities, Muslim communities," and with God.

"Pope Francis would want us to be building bridges, and he would want us to use these powerful tools of communication that are at our fingertips, like Salt and Light, like CatholicTV, like Twitter, like Instagram. He would want us to be showing Jesus to our people," he said.

In addition to the keynote addesses, the conference offered tours of the neighboring CatholicTV studios and talks from several other speakers, including Gregory Tracy, managing editor of The Pilot; Janet Benestad, general manager of WQOM 1060 Catholic Radio Boston;John Della Volpe, director of Polling at the Harvard Institute of Politics; and Sister Anne Flanagan of the Daughters of St. Paul.