Local
Family brings experience of autism to archdiocese's study committee
By Mark Labbe Pilot Staff
Posted: 4/15/2016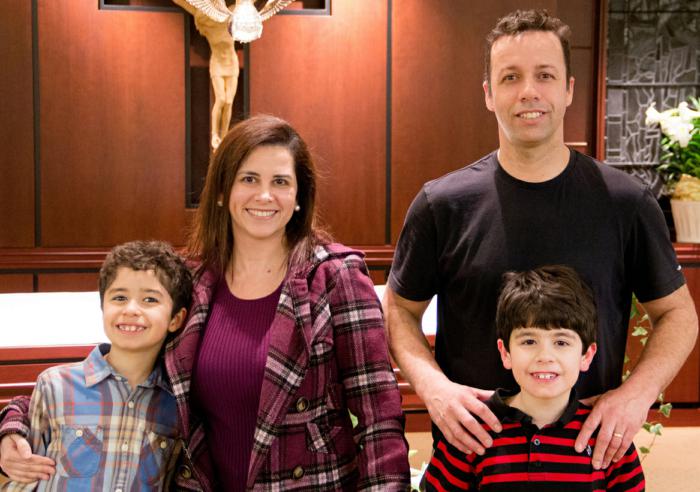 Fernanda and Vladimir Rocha are pictured with their children, Lucas and Raphael, at the archdiocese's Pastoral Center in March. The Rochas are part of the archdiocese's recently formed Autism Study Committee. Pilot photo/Mark Labbe
---
BRAINTREE -- Fernanda Rocha glanced at her two young children, Lucas and Raphael, as they watched videos on mobile devices. She sat between them at a table in the Archdiocese of Boston' Pastoral Center March 28, as her husband Vladimir tried to get their son, Raphael, to turn the volume of his video down.

As the sounds of the video grew fainter, Fernanda Rocha began to speak about her experience raising the two children, both of whom have been diagnosed with autism.

A part of the Autism Study Committee, the Rocha family had been in the Pastoral Center before. Back in February, the committee, headed by the archdiocese's Office for Persons with Disabilities, held its second meeting there.

In the meeting, and likely in future meetings, the committee considered ways to make parishes and churches more accessible to children with autism, something Rocha has been interested in for a while.

After both of her sons, now ages 8 and 9, were diagnosed with autism as infants, Rocha has been working to ensure that they receive all the help they can get.

She said that doctors were at first uncertain if the boys would be able to communicate properly. She noted that they were "behind in everything," not meeting the same developmental milestones as their peers.

So, Rocha brought her sons to therapy and began learning all she could about the disorder.

"They are more of a challenge (than non-autistic children), but I still feel that they change my life, and I like challenges" she said.

She ran into one such challenge when she first brought Lucas to religious education classes, and the instructors did not know how to teach him. To address that, she started attending every Saturday session, guiding the teachers on how to interact with children with autism.

Now, Rocha said, Lucas is in his own class, and the program "bought all the materials to work with him" and will begin its own training sessions.

She said the priests where she attends Mass, Madonna Queen of the Universe Shrine in East Boston, also provide assistance, such as telling attendees at Masses that the boys are "very welcome" in the shrine and explaining their condition.

The priests also included Lucas in some of the shrine's recent activities, including washing his feet on Holy Thursday and inviting him to dress up as St. Joseph on the saint's feast day, March 19.

Even so, she said, others who attend Masses there sometimes do not understand or do not have the patience to deal with Lucas and Raphael.

Fernanda said she and her family sit in the same pew every time they go to church as it helps relax the boys, but one time another woman was sitting in the pew.

After the Rocha's sat down next to her and the Mass began, the woman grew "so uncomfortable" and began making loud sighing noises. At one point, Rocha said, Lucas accidently sat on the woman's coat, and she went so far as to push him off of it.

Fernanda, mindful that she was in church, held back from saying something to the woman, and the priest made a point to explain the boys' conditions at the end of the service.

While she said that type of reaction bothers her, Rocha said it's "not keeping (her) away from the Church."

Rocha said that in addition to attending the Autism Study Committee, she also runs a support group for mothers of autistic children, and has been doing so since 2010.

The group began when Lucas was around three years old, after Rocha fought to get him into a full-day schooling program when Lucas' school would only offer her a half-day program.

Frustrated, she sought external help, someone who might advocate for her and her children, but found very little.

"But then I learned, if I get the information and teach myself how to advocate for them, I can do a better job," said Fernanda.

Soon afterwards, she said, "God started to talk to me," and she had an idea to form a support group.

The group, called The Special Gift of Being a Mom, focuses on teaching mothers more about autism, how to raise autistic children, and how to advocate for them in places like schools.

Originally, the group met at her house, but as more and more people began attending, it moved to the Madonna Shrine. Rocha said people from all over the state, and even sometimes from places as far as Montreal, Canada, have attended meetings.

Throughout all of her work in the autism community, Fernanda has kept a positive attitude towards her children and their future.

She expects them to make Confirmation, and said she will readily support their future decisions in life.

"I pray a lot for them, every day, and I just ask for (Lucas) and Raphael to be happy," she said.

She hopes that her work, particularly the work of the Autism Study Committee, will make parishes and religious activities more open to her sons, "because they want to go."

"That's my dream, she said.

Families who are impacted by autism and wish to inquire about programming for their parishes can contact Robert Kavanaugh of the Office for Persons with Disabilities at 617-746-5791.