Local
Cloughs to be honored at April 28 Jesuit Gala
By Donis Tracy Pilot Correspondent
Posted: 4/22/2016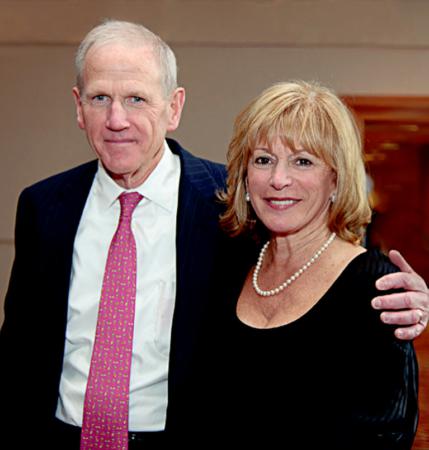 Deacon Charles and Gloria Clough Courtesy photo
---
In recognition of their selfless efforts for the Church and the local Concord community, the Northeast Jesuit Province will honor Deacon Charles and Gloria Clough with the Ad Majorem Dei Gloriam Award on April 28 at the Boston Marriott Copley Place. The award takes its name from the motto of the Jesuit order, meaning "For the Greater Glory of God," which is attributed to St. Ignatius, the founder of the Society of Jesus.

"Inspired by a decades-long connection with the Society of Jesus, Chuck and Gloria Clough have come to embody the Jesuit mission of serving others. In their daily lives, with characteristic humility, the Cloughs personify the Jesuit principle of the magis -- always doing more for Christ, and therefore doing more for others," the province said in a statement announcing the award.

The ties between the Cloughs and the Jesuits began almost 50 years ago, when Chuck attended Boston College as an undergraduate. A native of Jamaica Plain, Chuck credits Boston College with instilling in him the confidence that has served him through his life.

After graduating magna cum laude in 1964, Chuck went on to earn an MBA at the University of Chicago. He was a top-ranked stock market strategist on Wall Street before founding Clough Capital Partners L.P. in 2000. He is currently chairman and chief executive officer of the Boston-based investment firm with more than $4.3 billion in assets under management.

Aside from his professional career, Deacon Clough, together with his wife Gloria, have lived their lives in service to others. Both have been active in their faith throughout their 51 years of marriage. Raising their four children, they became the youth ministry coordinators in their parish -- Our Lady Help of Christians in West Concord.

"Gloria and I -- we were the youth ministry," Deacon Clough chuckled. "Every Sunday for about 7 years, they would meet in our home. We probably put about 1,000 kids through one retreat experience or another."

It was this work among the youth that inspired a vocation as a permanent deacon.

"I worked with a number of priests in youth ministry who suggested I look into the diaconal program," Deacon Clough recalled, joking that "to keep them quiet, I did."

"I knew they'd never accept me, but they did," he continued. "And then I was sure they'd never ordain me, but they did. So it was really an accident -- I just showed up and before I knew it I had a stole."

As a permanent deacon, Chuck first worked at the correctional institution in Framingham. He then was assigned to his parish, and when that parish was suppressed, he was reassigned to Holy Family in Concord, where he currently serves as a deacon.

"I have mostly done parish work," he explained, adding that he and Gloria have volunteered in a variety of ministries in his parish.

"Whenever there's a need or a vacuum, we filled in," he smiled.

Like her husband, Gloria has devoted her life to service as well.

Inspired by her husband's vocation, she enrolled in the Weston Jesuit School of Theology (now the Boston College School of Theology and Ministry), and in 1990 earned her Master's in Divinity.

Gloria praised her professors, noting that every class "felt like a sermon."

"It was very inspiring," she said. "I not only learned something, but I also felt something and it changed my life."

She then became certified by the National Association of Catholic Chaplains, and established the first chaplaincy program at Emerson Hospital in Concord, where she served as the hospital's first chaplain.

Gloria continued her education, earning her Masters in Nursing at Boston College and became a nurse-practioner in psychiatry. For 15 years, Gloria had a private practice in Concord and continued to volunteer at the parish level offering grief counseling, death and dying workshops and workshops on depression. She continues those services in her parish today.

The Cloughs also are board members in several organizations.

Gloria is a board member at Bridge over Troubled Waters, an outreach program to homeless youth ages 14-24. She also is a board member at Emerson Hospital.

Chuck has been a trustee at Boston College for the past 23 years, where he offers his expertise in finance and investment. The Cloughs have also established the Clough Center for the Study of Constitutional Democracy, which seeks to reinvigorate and transform the study of constitutional democracy through a global, holistic approach, and the Clough Colloquium, a speaking program that introduces members of the BC community to persons of high ethical standards who are leaders in their fields.

In spite of all their accomplishments, both Chuck and Gloria hope to shine the spotlight on the Jesuit order, not on themselves.

"We don't want all this attention on us, but on the Jesuits," Gloria said. "They're the ones who are doing the missionary work, the teaching and the pastoral work that is so important -- with St. Ignatius as the building block."