Local
Ordination class of 2016: Deacon Huan Dominic Ngo
By Donis Tracy Pilot Correspondent
Posted: 4/29/2016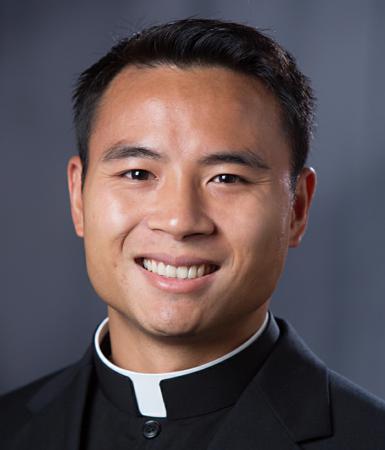 Deacon Huan Dominic Ngo Pilot photo
---
This is the fifth in a series of articles profiling each of the nine men who will be ordained to the priesthood by Cardinal Seán P. O'Malley at the Cathedral of the Holy Cross on May 21. Earlier articles in the series are available at TheBostonPilot.com.

God and the faith have always been a very big part of Deacon Huan Ngo's life.

Born in Vietnam, the third child of six, his family always adhered to their faith. He recalls seeing his parents attend daily Mass in Vietnam.

When Deacon Ngo, who goes by his baptism name Dominic, was eight years old his family emigrated to the United States, settling in East Boston, where they were quickly welcomed by the Vietnamese Catholic community at Sacred Heart parish.

It was his pastor, Father Wayne Belschner, who first asked Deacon Ngo to consider the priesthood.

"One day my friend (from the Vietnamese community) asked me to sit in and talk to the pastor because he wanted to become a priest," the 29-year-old explained. "After speaking with him several times, my pastor suggested I go on the discernment retreat with my friend."

"At the time, I had no intention of being a priest," he laughed, "but I went."

Although the friend ultimately did not enter the seminary, Deacon Ngo did.

"My parents were very supportive, although my father was a bit surprised," he said. "My mom, she always wanted me to be a priest, but the idea had never really crossed my mind. Or rather, I always had pushed it aside."

He attended Franciscan University in Steubenville, Ohio for one year before transferring to Our Lady of Providence Seminary in Providence, where he completed his pre-theology studies.

Studying philosophy proved to be very challenging for Deacon Ngo. He recalls turning to Father Belschner for guidance.

"He said to me, 'Study hard and pray harder.' Those words never left me. I studied as best as I could, but I prayed even harder, going to confess as often as I could," he said.

It was during this time that a passage from Scripture began to resonate with Deacon Ngo, he said. "'Love the Lord your God with all your heart, soul and mind and your neighbor as yourself' -- that really stayed with me."

After graduating, he entered St. John's Seminary, but quickly realized he wanted more time to discern before being ordained.

"I had never experienced working, or what it was like in the world," he explained.

For two years, Deacon Ngo lived at home, working to pay off student loans. But, he said, the Scripture passage never left him.

"I enjoyed what I was doing, but I kept thinking, 'Have I loved God with all of me -- with my heart, mind and strength?' I knew I was running away from my vocation," he said.

He reapplied to St. John's Seminary, and never looked back.

"From that point on, the ball started rolling," he laughed. "And then it all came together -- I could really sense that there was something much bigger than me calling me to the priesthood."

"I have come to see how much God loves me," Deacon Ngo said. "Every time I look at the crucifix and every time I am at Mass, I see how much he has loved me and he asks me to respond to that love. And He also calls me to do the same: to lay down my life for all those that will be in my care."

Deacon Ngo sees the need to guide people to God as the biggest challenge he will face once he is ordained -- a challenge he is willing to take on.

"A lot of people want to do the right thing -- they want to be happy, to love and to be in the truth," he said. "No one wants to be lied to, but we are in a world that is very confusing, with so many mixed messages."

He hopes to be able to provide guidance to those who are searching for God. As a deacon at St. Joseph Church in Needham, he has been able to preach at the Masses -- something he has enjoyed greatly.

"It has helped me to spend more time in prayer on the Word of God, asking God to speak through me...to be able to inspire, to comfort, to share what I have received," he said.

"I want to let people know that God really loves them. I want to be able to share what God has done in me, and to help them to see that God is working in their lives as well," Deacon Ngo continued. "I want to let them know that there's hope in the midst of all this craziness in the world."