Local
Cardinal blesses Habitat for Humanity house dedicated to Pope Francis
By Mark Labbe Pilot Staff
Posted: 4/29/2016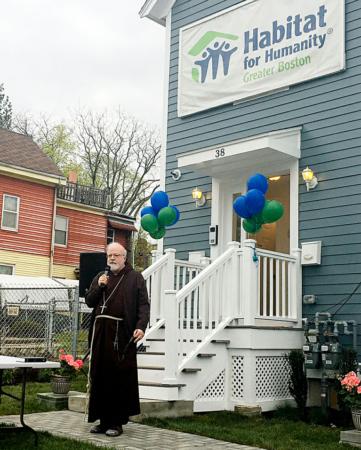 Cardinal O'Malley speaks at the dedication of the Habitat for Humanity house in Roxbury that will provide homes for two local families. Courtesy photo
---
ROXBURY -- Cardinal Seán P. O'Malley joined Habitat for Humanity Greater Boston in Roxbury April 23 to dedicate and bless a new house that will provide a home to two low-income families.

The house was dedicated to Pope Francis and his commitment to social justice at the request of an anonymous donor who made donations of $60,000 each to 50 different Habitat affiliates across the country.

Rufino and Niulka Martinez, with their young children Zuriel and Ruby, and Marleny De Los Santos, with her children, Emily and Irene, will be moving into the house soon, after spending hundreds of hours helping to build it.

"They had to do 300 hours of sweat equity, and that's taken as sort of a down payment on the house, and then outside of that they pay a zero percent interest mortgage over 30 years to Habitat," Peter Trainor, Individual Giving Coordinator at Habitat for Humanity Greater Boston, told The Pilot April 26.

The families were helped by other volunteer groups, and the house was built entirely using volunteer labor.

Volunteer groups came from Malden Catholic High School, Boston College, Emmanuel College, like Bank of America, Trip Advisor Foundation, Traveler's Insurance, and several local parishes.

Essentially, the house is a "split duplex," Trainor noted. "One of the families is living on first floor and half of the second floor, the other family is living in half of the second floor and the top floor."

During the ceremony, Cardinal O'Malley offered opening and closing prayers, and blessed the house.

A non-profit and ecumenical Christian organization, Habitat for Humanity has around 1,400 local affiliates in the United States, and has helped about 6.8 million people improve their living conditions ever since it was founded in 1978.