Local
Boston seminaries sponsor evening of Jewish-Catholic dialogue
By Mark Labbe Pilot Staff
Posted: 5/6/2016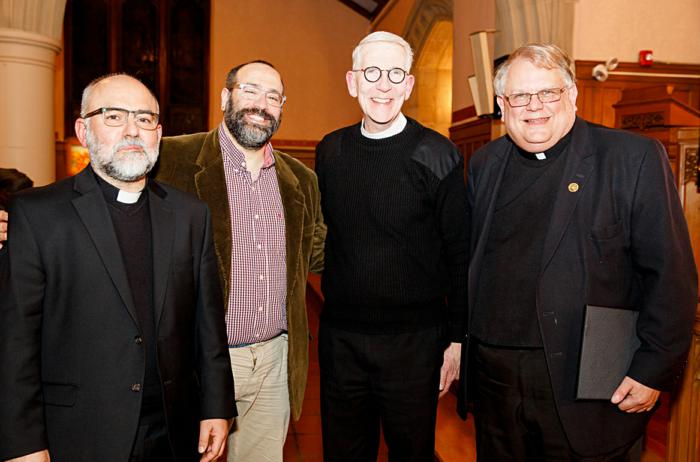 Father Antonio Medeiros, Rabbi Or Rose, Father Dennis McManus and Msgr. James Moroney pictured following the event "Jewish-Catholic Relations on the 50th Anniversary of Nostra Aetate," May 2, co-sponsored St. John's and Redemptoris Mater seminaries. Pilot photo/Gregory L. Tracy
---
BRIGHTON -- St. John's Seminary's Our Lady of the Presentation Lecture Hall in Brighton was the setting of a lively dialogue on the topic of "Jewish-Catholic Relations on the 50th Anniversary of Nostra Aetate," May 2, between Father Dennis McManus and Rabbi Or Rose.

Co-sponsored by St. John's Seminary and Redemptoris Mater Archdiocesan Missionary Seminary, the dialogue considered four main points of Nostra Aetate, the Second Vatican Council document that acknowledges the unity of all people, especially the bond between Jewish and Christian people.

Father McManus, a part-time professor at St. John's Seminary and a visiting professor at Georgetown University in Washington, D.C., discussed the points from a Catholic perspective, while Rabbi Rose, founding director of the Center for Global Judaism at Hebrew College in Newton Centre and co-director of the Center for Interreligious and Community Leadership Education, discussed them from a Jewish perspective.

Msgr. James P. Moroney, rector of St. John's Seminary, and Father Antonio F. Medeiros, rector of Redemptoris Mater Archdiocesan Missionary Seminary, offered opening remarks.

In his introduction, Father Medeiros said, "Most of us have heard of Nostra Aetate, and many of us have even read the document. It is our hope that after tonight's lecture, we may also come to a deeper appreciation of the issues that have kept us apart for so many centuries, but also celebrate the courage and the prophetic vision of our church leaders, Jewish and Catholics, past and present, who began to speak 50 years ago in defiance of the nearly two millennia of consolidated silence between us."

The dialogue began with Father McManus offering a history of Nostra Aetate, which was promulgated on Oct. 28, 1965 by Pope Paul VI during the Second Vatican Council. He then gave the first main point of the document, which he said is "Jews are not to be blamed for the death of Jesus, not then, and not now."

Father McManus noted that "We need to eliminate from our imaginations and our vocabularies as Catholics" the idea that Jewish people killed Jesus.

"The Romans put Jesus to death... Blaming Jews for the death of Jesus has been the religious excuse for persecuting them for 2,000 years, and it dies hard, doesn't it?," he said, noting a recent incident between Catholic Memorial School and Newton North High School.

During a basketball game between the two schools, Catholic Memorial students chanted "You killed Jesus," to the opposing school, which has a large number of Jewish students.

In response, Rabbi Rose offered a quote by noted American Rabbi Arthur Gilbert, who said of the death of Jesus: "Jews felt no guilt and need no absolution."

Even so, the rabbi said, "Nostra Aetate was the beginning of a process that needs to be continued. And it needs to be continued in a variety of ways, most profoundly, I think, educationally."

Keeping the Catholic Memorial-Newton North incident in mind, Rabbi Rose suggested more could be taught in schools, churches, and synagogues about the connection between Catholicism and Judaism, particularly Jesus' own "Jewish-ness."

The second main point of the document, Father McManus said, is "God's covenant with the Jews remains valid even today."

"As Christians, we may not deny the validity of what God brings about with our Jewish brothers and sisters. It remains eternally valid -- the convent, the love, the prophets, Moses, the temple... these are the gifts of God," he said.

Rabbi Rose offered a quote by Rabbi Abraham Joshua Heschel, a prominent 20th century Jewish theologian, who said of this point: "I am prepared to go to Auschwitz if I have to live as anything other than a Jew."

"Heschel was saying, as an emigre from Eastern and then Central Europe who saw his entire family exterminated by the Nazis... that his covenant with God, the covenant that began with Abraham, Isaac, and Jacob, was an unbreakable one, and that people throughout time and space, against tremendous odds, refused to be anything other than Jewish," the rabbi said.

"Jews and Judaism are an important part of this human project," he continued.

The third main point of the document is "Jews may not be looked upon as cursed or abandoned by God," said Father McManus.

He told the story of when Pope John XXIII took a pen, opened the Roman Missal, and "found the page with the prayer of Good Friday that prayed this... 'For the wicked Jews.' And he crossed it out, and crossed out the wicked language all the way through."

Rabbi Rose called the pope's act "the heroic act of an individual," and said more individuals need to think about how they, too, can perform such acts.

"The history, as you well know, is of brave individuals with great clarity and vision who said 'We must do something dramatic to make change'... Institutions are populated by individual people. When are we going to pick up that pen?" he said.

However, Rabbi Rose also reminded attendees that Pope Benedict XVI made the decision to allow greater use of the Missal of 1962, which still included some anti-Jewish Good Friday prayers.

"Again, I want to say the work continues, and there are moments of ebb and flow. There are moments of forward movement, and then there are moments of questioning at the very least and regression," he said.

The last point, Father McManus said, is "Anti-Semitism and anti-Judaism have no place in Christian life."

He said that "this is a big challenge, still," noting that he stills hears "anti-Semitic jokes" and other harmful language.

However, in response, Rabbi Rose said he has not witnessed much anti-Semitic or anti-Judaism language personally.

"Things have changed dramatically," he said, since his parents' and grandparents' generations, "but there is still more work to be done," noting that it is important to ensure that other religious groups are also not subjected to harmful language.

"I know what my grandparents went through, and here I am, sitting in this comfortable red chair in this beautiful sacred space with (Father McManus), beginning to try and move forward. In the process, we need to ensure that as we forge this relationship, we don't elbow out others," he said.

The dialogue came to a close with a film that documented a historic inter-faith gathering of Rabbis and Catholic prelates in May of 2015 at the Domus Galilaeae in Israel.

Speaking with The Pilot following the event, John Larochelle, a seminarian at St. John's Seminary, said he was glad he attended the dialogue, as it gave him things to reflect on.

"To tell you the truth, a couple of things made me a little uncomfortable and forced me to take a look at how I've thought of Jewish-Christian relations, and bringing up those questions in my own mind, it's definitely given me some things to think about," he said.

Benjamin Kanpf, another seminarian at St. John's, found the dialogue "thought provoking."

"Much of what was said I will be thinking about for a number of days and weeks to come, because they pose so many questions as they're answering so many questions," he said.

"There's a beauty that hopefully will come out of the two talking to each other that will be greater than anything there was before. But, it will take time," he continued.