Local
Memory of Bishop D'Arcy honored at St. John's
By Mark Labbe Pilot Staff
Posted: 5/20/2016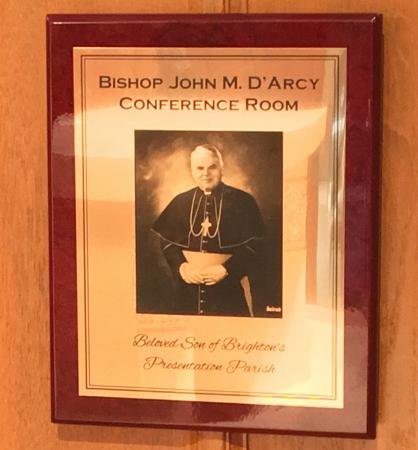 The plaque installed this week hangs outside the Bishop John M. D'Arcy Conference Room at St. John's Seminary's Our Lady of Presentation Lecture Hall and Library. Pilot photo/courtesy St. John's Seminary
---
BRIGHTON -- A new plaque in St. John's Seminary's Our Lady of Presentation Lecture Hall and Library hangs before the Bishop John M. D'Arcy Conference Room, announcing the name of the room and featuring an image of the late Bishop D'Arcy.

"Beloved Son of Brighton's Presentation Parish," the plaque reads, underneath the image of the bishop.

Bishop D'Arcy, a native of Brighton, attended St. John's Seminary in 1949, and later served as spiritual director and director of spiritual theology there from 1968 to 1985, during which time he was appointed auxiliary Bishop of Boston and Titular Bishop of Mediana by Pope Paul VI.

In early 1985, Bishop D'Arcy was named Bishop of Fort Wayne-South Bend, Indiana, where he served until his death in 2013.

The plaque, although installed on May 13, follows an August 18, 2015 dedication ceremony of the conference room that featured words from the bishop's surviving family members and dozens of attendees.

During the ceremony, Sister Anne D'Arcy, CSJ, sister of Bishop D'Arcy, noted her family's special connection to the seminary and to the Our Lady of Presentation, which had served the community as a parish until 2005, when it was closed. The seminary acquired it, and in 2013, reopened it as a lecture hall and library.

According to a text of the remarks at the original dedication ceremony posted on the blog of seminary rector Msgr. James Moroney, Sister Anne said, "It is a joy to be here in this beloved church of Our Lady of the Presentation, the spiritual home of our family for so many years. It was here that our parents, Michael John and Margaret Moran D'Arcy, were married in 1930. It was in this church where each of us, Mary, John, Joan and myself received all our sacraments. This is where John celebrated his first Mass in 1957 and officiated at the marriage of Joan and Hugh in 1965. It is also where he celebrated the funeral Masses of our parents."

"It is fitting that this church he so loved is now part of Saint John's Seminary. We know John's special love for the priesthood, first as a parish priest at St. Mary's, Beverly, then as spiritual director at St. John's Seminary, where he helped prepare men for priesthood," she continued.

Msgr. Moroney also spoke at the 2015 ceremony. He talked highly of Bishop D'Arcy, and asked those in attendance to remember him.

"When we meet here, I want us to remember that he is a son of Brighton, he was one of us: the faithful, who like the Blessed Virgin know our littleness but also know the great things God can do with us," he said.

Speaking with The Pilot in a phone conversation, April 29, Bishop D'Arcy's sister, Joan D'Arcy Sheridan, said that "Presentation Church meant a lot" to the bishop.

"I'd think he'd be very happy that St. John's Seminary has it, and that the room there is dedicated to him," she said.