Local
Boston University awards Medeiros Scholarships to local students
By Mark Labbe Pilot Staff
Posted: 5/27/2016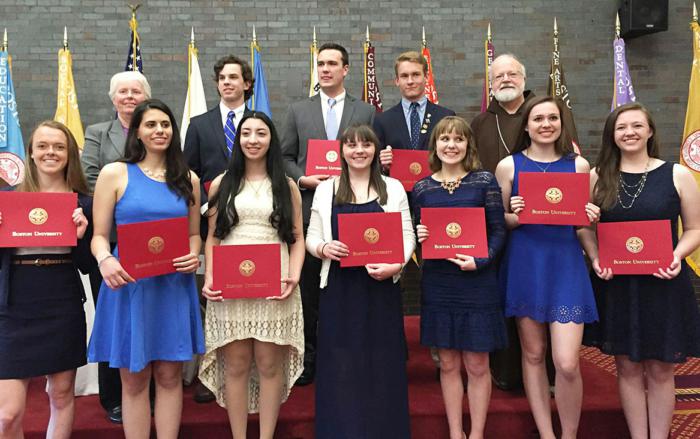 Cardinal Seán P. O'Malley and Boston University provost Jean Morrison are pictured with Medeiros Scholarship recipients, May 17. Courtesy photo Boston University
---
BOSTON -- Twelve graduating Catholic high school students received Boston University's Cardinal Medeiros Scholarship, a full-tuition scholarship, during a May 17 ceremony held at the university.

Cardinal Seán P. O'Malley and Boston University provost Jean Morrison presented the students with the scholarships, which combined are valued at nearly $2.3 million.

The scholarship recipients are: William Barnard, Xaverian Brothers High School; Ishrat Chowdhury, Bishop Fenwick High School; Aidan Coia, Xaverian Brothers High School; Erin Condon, Marian High School; Samantha Curley, Lowell Catholic High School; Anna Daher, St. Joseph Preparatory High School; Sarah Golden, Archbishop Williams High School; Brian Harrington, Catholic Memorial School; Carina Imbornone, Central Catholic High School; Emily Masse, Academy of Notre Dame; Nicholas McCool, Central Catholic High School; and Meaghan Walsh, Fontbonne Academy.

Since 1986, the Cardinal Medeiros Scholarship has been annually given to twelve students graduating from Catholic high schools within the Archdiocese of Boston. Medeiros Scholars are chosen for their academic achievements, their contributions to their communities and their schools, and their demonstrated leadership skills.

The scholars are selected by a two-person committee which is comprised of representatives from the Archdiocese of Boston and from Boston University.

Over the years, a total of 420 students have been awarded the scholarship, representing a $49 million contribution from Boston University.