Local
Nine ordained to the priesthood
By Mark Labbe Pilot Staff
Posted: 5/27/2016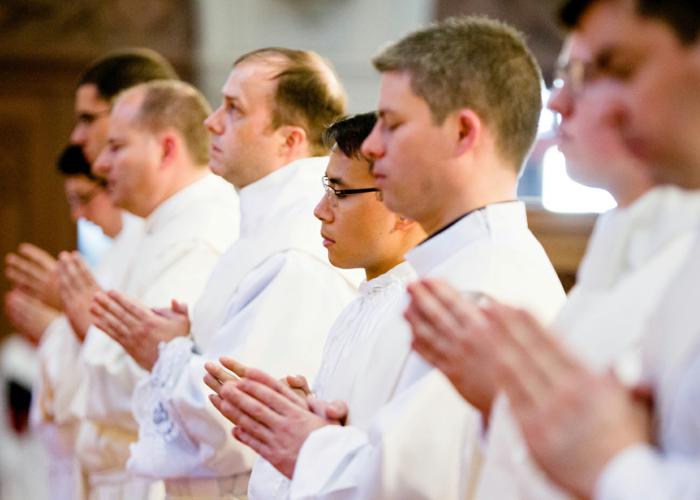 'Adsum'... Present... The deacons of the class of 2016 responded "Present" when called by Msgr. James Moroney, rector of St. John's Seminary, and presented to Cardinal O'Malley as worthy to be ordained as priests of the archdiocese of Boston. Pilot photo/Gregory L. Tracy
---
SOUTH END -- Friends, family, and clergy joined Cardinal Seán P. O'Malley at the Cathedral of the Holy Cross in Boston as he ordained nine men to the priesthood, May 21.

The cardinal welcomed Fathers Christopher Woongjin Bae, Matthew John Conley, Patrick Joseph Fiorillo, J. Thomas Gignac, Stephen Robert LeBlanc, Huan Dinh Ngo, Thomas Olson, Kevin Staley-Joyce, and Thomas Robert Sullivan to their new vocation.

"I want to congratulate and thank God for our ordinands and their families and loved ones who have supported their vocations for so many years and join us today on this very happy occasion," said Cardinal O'Malley in his homily.

The cardinal conducted the rite that brought the men into the priesthood, from the bishop's chair, or cathedra -- a symbol of his apostolic teaching authority passed on from his successors.

As the rite began, each man stood and answered "present" as his name was called, as Msgr. James P. Moroney, rector of St. John Seminary in Brighton, presented the candidates to the cardinal. The cardinal elected the men for ordination with the consent of the friends, family and supporters of the candidates to a round of applause, which signified their approval.

Cardinal O'Malley then delivered his homily, and he spoke about the day's Gospel reading, John 1: 35-46, in which Sts. John, Peter and Andrew are invited to follow Jesus.

"Like the apostles in today's Gospel, you too are seekers, and have found the one who was seeking you, and inviting you to follow him. You must understand what the apostles instinctively grasped, namely that the invitation to follow Jesus is an invitation to be an evangelizer, to live our life inviting others to follow in Jesus' footsteps," he said.

"The Church exists to evangelize, and our priests must be missionary disciples, constantly inviting others to be part of Jesus' family, to embrace his Gospel and his mission," the cardinal continued.

He then spoke about the love the new ordained have found in God, and the bond they now share with their fellow priests.

"When we truly discover the Lord and his love, we embrace the mission of sharing that love with others. Discipleship is a school of love," Cardinal O'Malley said.

"We are called to be a brotherhood that is about humble service, washing people's feet, being close to them in their suffering, and laying down our lives for our brothers and sisters. It's not about popularity. At times the world will hate us, but we know that we have passed from death to life because we love our brothers and sisters," he continued.

Following the homily, each candidate approached the cathedra and promised obedience to the cardinal and his successors. The candidates then lay prostrate before the altar during the Litany of Supplication.

Cardinal O'Malley laid his hands on each of the men's heads, followed by each of the priests present.

After the laying-on of hands and the prayer of consecration, the investiture with stole and chasuble, and anointing of their hands followed.

The cardinal then handed each of the nine new priests a paten and chalice before they joined him at the altar to concelebrate the Mass. The newly ordained joined their brothers to participate in the Communion Rite as priests for the first time.

Following the ceremony, the newly ordained Father Gignac told The Pilot that the ceremony was "surreal."

"When (Cardinal O'Malley) places the chrism on your hands, and consecrates your hands so you can consecrate the holy Eucharist -- there's nothing like it," he said.

Kathleen Schoemer, cousin of Father Sullivan, said it was "awesome" to watch her cousin be ordained.

"We have an uncle who was a priest and an aunt who was a nun who have since passed away, so Tom is now carrying on the torch," she said, noting that her family planned to attend his first Mass at Sacred Heart Parish in Watertown, May 22.

Another attendee, first year theology student Paul Wargoeich said he knows all of the newly ordained priests.

"It's amazing to see the hand of God in their lives and to watch them become more like Christ," he said.

Newly Ordained

Cardinal Seán P. O'Malley, OFM Cap. has announced the appointment of the newly ordained priests of the archdiocese. Each will be parochial vicar in the respective parish or collaborative (indicated by [C]), and the assignments are all effective June 1, 2016.

Father Christopher W. Bae, St. Mary, Franklin [C]

Father Matthew J. Conley, Sacred Heart and St. Patrick, Watertown [C]

Father Patrick J. Fiorillo, St. Ann and St. Brendan, Dorchester [C]

Father J. Thomas Gignac, Holy Family, Duxbury

Father Stephen R. LeBlanc, St. Michael, Lowell

Father Huan D. Ngo, Sacred Heart and St. Mary, Lynn [C]

Father Thomas M. Olson, St. Thomas Aquinas, Bridgewater

Father Kevin Staley-Joyce, St. Mary, Foxborough

Father Thomas R. Sullivan, St. Catherine of Siena, Norwood.