Local
Concert will mark cathedral organ's 140th year
By Mark Labbe Pilot Staff
Posted: 6/17/2016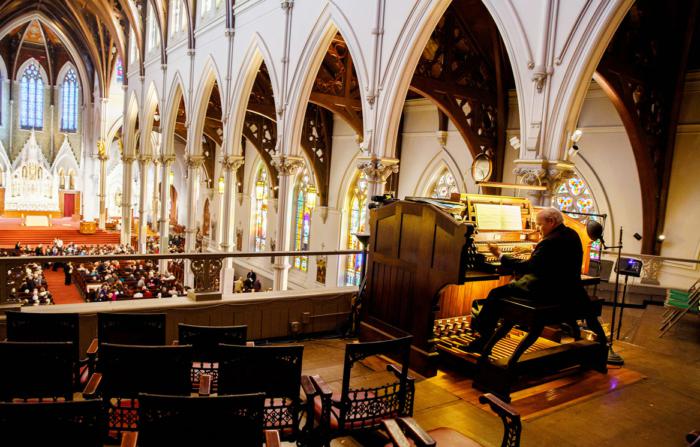 Cathedral Music Director and Organist Leo Abbott plays in the Cathedral of the Holy Cross last November. Abbott will be among the nine organists performing during the cathedral Organ Birthday Concert at 3 p.m. on Sunday, June 19. Pilot file photo/ Gregory L. Tracy
---
SOUTH END -- It's been 140 years since the E. and G. G. Hook and Hastings organ in the Cathedral of the Holy Cross was dedicated, a milestone that will be celebrated during the cathedral's annual Organ Birthday Concert, held June 19.

"When the cathedral was actually dedicated, the whole organ was not yet installed. They had maybe just a third of it installed for the dedication of the Cathedral on Dec. 8, 1875," said Leo Abbott, Cathedral Music Director and Organist.

"But on Feb. 23, 1876, they had installed the entire organ... This was the largest organ at that time yet built in the United States -- 5,292 pipes," he continued.

The concert will also celebrate Abbott's 30 years as music director and organist at the cathedral, having served there since 1986.

Back then, Abbott said, the organ was in such a state of disrepair that he could "barely get a chord" out of it.

However, he, with the help of others, managed to restore the organ to a condition "fairly close to what it sounded like in 1876."

Now, "this is, perhaps, one of the largest reasonably unchanged pipe organs of this era," he said.

This year's Organ Birthday Concert will feature performances from nine different organists: Leo Abbott, Eric Bermani, Anthony Brown, Richard Clark, Janet Hunt, Peter Krasinski, Rosalind Mohnsen, Rodger Vine, and Bridgette Wargovich.

Abbott said he believes this is the most amount of people ever to play at one of these concerts, and noted that the "idea of having several players dates back to the Victorian times."

"Even when the organ was dedicated, I think there were six people playing the dedication recital. This was a way maybe of getting a larger crowd, a more varied crowd," he said.

While the full program for the concert has yet to be finalized, he said the pieces he does know will be performed will "really work on this organ in a building this size."

The Organ Birthday Concert will begin at 3 p.m. on Sunday, June 19 at the cathedral, followed by a reception. Both the concert and reception will be free and open to the public.