Local
The Pilot honored with Catholic Press Awards
By Mark Labbe Pilot Staff
Posted: 6/17/2016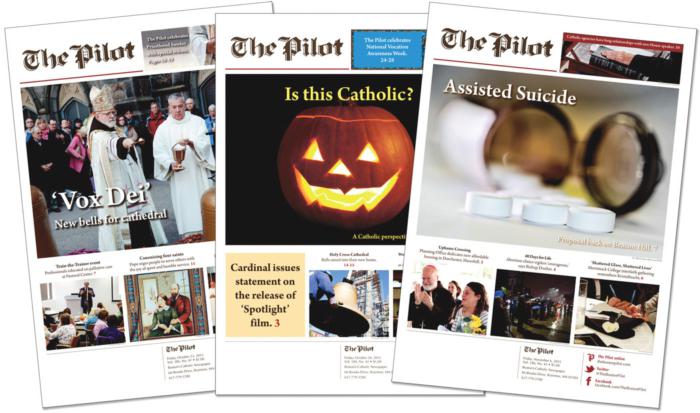 Pilot graphic
---
BRAINTREE -- The Catholic Press Association of the United States and Canada announced June 3 that The Pilot received four awards in its annual Press Awards competition, including placing second for General Excellence among weekly diocesan newspapers with a circulation of 25,000 copies or fewer.

"Clean lines and excellent feature stories make this paper a pleasure to read," the judges wrote in their comments accompanying the General Excellence award.

"It is not often that you see Catholic publications tackle issues like Halloween or assisted suicide in such a comprehensive manner, and The Pilot does a great job of presenting these topics (and many others) in both an informative and spiritual way," the judges continued.

Each year, the Catholic Press Association invites submissions from Catholic newspapers, web sites, and magazines which are judged by a panel of independent experts for excellence. The Pilot has been honored with awards every year since 2002.

In addition to its award for General Excellence, The Pilot took first place for the best regular Scripture column for a series written by St. John's Seminary rector Msgr. James P. Moroney.

The newspaper also took second place in the category of Best Regular Special Supplement for its May 22, 2015 "Vocations" special issue.

"The heart of this look at priestly vocations are wonderfully written stories about five new priests, but this supplement also includes stories and pictures of those who have served a lifetime," the judges wrote.

The Pilot also received an honorable mention in the Best Redesign category, in which the judges noted the newspaper's "greater emphasis on photography on both the cover and inside pages," as well as the reorganization of its stories.

Editor Antonio Enrique said he is, "grateful for all four awards, as they represent different aspects of our work and a recognition of our efforts to bring our readers news and commentary about the life of the Church every week."

"In a particular way, the General Excellence and the Best Redesign awards are an acknowledgement by our peers in the Catholic Press of the Pilot staff's efforts to continue with our mission, both in print and online, to increase our visibility and relevancy as we reach out to new audiences," he said.