Local
Catholic school retirees honored for years of service
By Mark Labbe Pilot Staff
Posted: 6/17/2016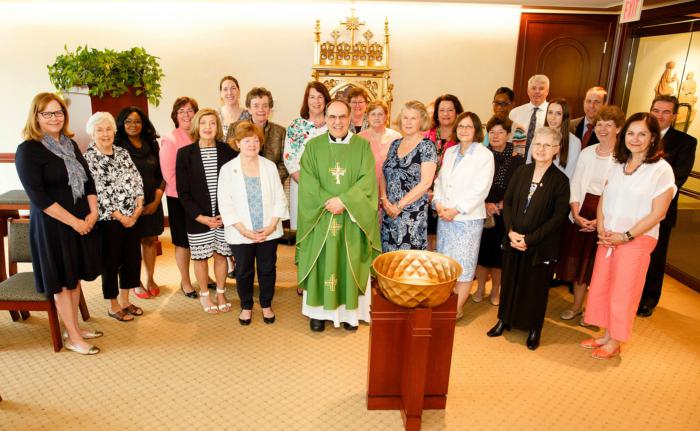 Vicar General Bishop Peter J. Uglietto poses with Catholic school retirees, school administrators and representatives of the archdiocese's Catholic Schools Office following Mass at the Pastoral Center June 9. Pilot photo/Gregory L. Tracy
---
BRAINTREE -- It's not leaving her fellow teachers that's troubling Charlotte Flynn about retiring from St. Augustine in Andover after 22 years of working as a kindergarten teacher, it's leaving her students.

"That's going to be the hardest part, because you see them, you watch them grow, and we are going to miss them," she said to the nods of school nurse Maureen Emde and math teacher Christina Meaney, who are also retiring from St. Augustine this year.

"It's all about the kids... that's the tough part, to leave them, because they're family," Meaney echoed.

The three St. Augustine employees were part of a group of 11 Catholic school teachers, administrators, and staff from around the Archdiocese of Boston retiring this year after a combined 318 years of service to the Catholic school system.

To honor their years of commitment to Catholic education, the archdiocese's Catholic Schools Office hosted a reception for the retirees at the Pastoral Center in Braintree June 9. A Mass celebrated by Vicar General Bishop Peter J. Uglietto was held prior to the reception.

In his homily, Bishop Uglietto told about how when he was a young priest, he attended an ecumenical gathering on Boston Common. He said he spoke with a public school teacher during the gathering, who told him, "We spend so much time educating the mind, but so little time educating the heart."

Addressing the retirees, Bishop Uglietto asked "Educating the heart, isn't that what Catholic education is all about?"

"Really educating the whole person -- the intellect, the mind, the heart, the soul... isn't that what you have been up to for these years that you have served in Catholic education yourselves?" he continued.

At the reception, both Bishop Uglietto and Superintendent of Catholic Schools Kathy Mears thanked the retirees for their service, before principals and staff members who worked with the retirees were invited to offer words of gratitude.

Jared Belliveau, principal of Monsignor Haddad Middle School in Needham, spoke about his colleague, retiring language arts teacher Kathy Roever.

"She is a wonderful teacher. She has that wonderful combination of 'tell it like it is,' but also a very warm heart. For the group of students she's had over the past years, the sixth graders... she's been a perfect fit for them. I know they all greatly appreciate all that she has done for them," he said.

"She's always willing to lend a hand, lend an ear, lend a thoughtful piece of advice... She's really just made everybody's involvement with the school that much better," he continued.

Roever, who is retiring from the middle school after 10 years, called her retirement "bittersweet."

Sister Ellen Powers, regional director of St. John Paul II Catholic Academy in Dorchester, is retiring after 42 years with the school.

"I look forward to having some time to rest, to relax, reflect, and to recreate myself to see what the next phase of my journey is going to be," she said, adding that she does not know yet what God has planned for her.

However, she does know that it won't be easy to say goodbye to SJPIICA's students.

"(Children are) so simple, so sincere, and so real. No wonder Jesus said, let the children come to me; they're a joy.... And they teach adults, they teach adults the joy and simplicity of life," Sister Ellen said.

She noted that no matter where life will take her, she has high hopes for the future of Catholic education.

"I think that the Catholic education is alive and well. It'll continue to grow, it'll continue to have challenges, but it'll also continue to meet those challenges," she said.

The retirees honored at the reception were:

-- Mary Jane Campbell, Admissions Coordinator at St. Mary of the Hills School in Milton, 19 years of service.

-- Kathleen Cronin, St. Theresa School in West Roxbury, 43 years of service.

-- Maureen Emde, Nurse at St. Augustine School in Andover, 26 years of service.

-- Charlotte Flynn, Kindergarten teacher at St. Augustine in Andover, 22 years of service.

-- Mary Ellen Geary, Grade 6 Language Arts teacher at Mount Alvernia Academy in Newton, 41 years teaching in Catholic schools.

-- Cecily Hassett-Salley, French teacher at Sacred Heart in Kingston, 20 years at Sacred Heart, 37 total service.

-- Kathleen Lewis, Social Studies faculty at Archbishop Williams High School in Braintree, 14 years of service.

-- Christina Meaney, Math teacher at St. Augustine in Andover, 20 years of service.

-- Maryellen Morrissey, Grade 2 teacher at St. Jerome School in Weymouth, 44 years at St. Jerome School.

-- Sister Ellen Powers, Regional Director of St. John Paul II Catholic Academy, 42 years of service.

-- Kathy Roever, Language Arts teacher at Monsignor Haddad Middle School in Needham, 10 years of service.