Local
Episcopal Ordination schedule and broadcast information released
By Mark Labbe Pilot Staff
Posted: 8/12/2016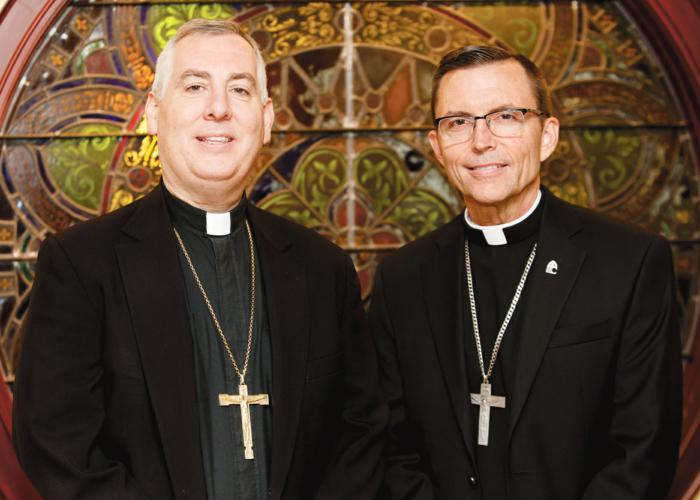 Bishops-elect Mark O'Connell and Robert Reed Pilot photo/Gregory L. Tracy
---
SOUTH END -- With the Aug. 24 ordination of Bishops-elect Mark O'Connell and Robert P. Reed steadily approaching, the Archdiocese of Boston has released the schedule for the ordination.

Taking place in the Cathedral of the Holy Cross in Boston, the Mass of Ordination will see Bishops-elect O'Connell and Reed become auxiliary bishops for the Archdiocese of Boston, with Bishop-elect O'Connell assuming the role of Regional Bishop for the North Region and Bishop-elect Reed assuming the role of Regional Bishop for the West Region.

Additionally, Bishop-elect O'Connell will become Pastor of St. Therese Parish in North Reading effective Sept. 1, and Bishop-elect Reed will become Pastor of Good Shepherd Parish in Wayland effective Sept. 21.

Cardinal Seán P. O'Malley will serve as principal celebrant and homilist during the ordination ceremony.

Co-consecrators for Bishop-elect O'Connell will be Vicar General Bishop Peter J. Uglietto and Bishop Walter J. Edyvean, while Bishop Christopher Coyne will accompany the new bishop during the Te Deum.

Bishop-elect Reed's co-consecrators will be Bishop Robert P. Deeley and Bishop Arthur L. Kennedy.

The Mass of Ordination will begin at 2:00 p.m in the Cathedral of the Holy Cross. While the ordination is invite-only, live coverage will be provided by The CatholicTV Network. Coverage will begin at 1:30 p.m. at the start of the liturgical procession that will lead into the Mass.

The ordination will be aired on CatholicTV's cable channels, on CatholicTVLIVE.com, and on CatholicTV's Apple TV, Roku, and mobile applications, and will be rebroadcast at 8:00 p.m. later that day. The Mass will also be available for on-demand viewing.

Additional information about the ordination may be found at www.Ordination2016.com.