Local
Meeting the children of Cuba on the baseball field
By James Spillman
Posted: 8/19/2016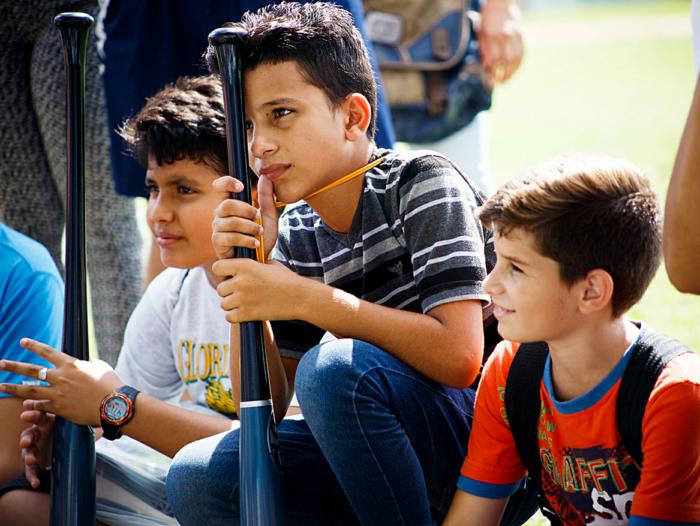 Young participants in the Missionary Childhood Association's Cuba baseball mission clutch their bats as they listen to instruction from the coaches. Pilot photo/Gregory L. Tracy
---
One aspect of Jesus' ministry that is clear in each of the Gospels is just how important the development of relationships was in his ministry. Jesus so often did this by meeting people in a place that they were already comfortable. Calling Zaccheus down from the tree to share a meal at his house, meeting his first disciples by the shores of the lake where they fished, visiting Martha at her home -- all are examples of Jesus seeking to develop a meaningful relationship with someone through an encounter in a comfortable, familiar place.

So, if you are a missionary seeking to develop relationships with the children of Cuba, to encourage them to learn more about Christ and their faith, and to inspire them to evangelize in the same ways Jesus did, where do you meet them? For the faith-filled men and women who carry on the work of the Missionary Childhood Association in Cuba, the answer is: a baseball field.

I remember pulling up to the baseball field we visited on our first day in Santa Clara and taking in the images around us. Beaten up wooden scoreboard in centerfield. Rusted, bent, and broken fencing surrounding the field. An infield that surely hasn't seen new dirt in years, and an outfield littered with rocks and patchy weeds in the arid, cracked soil. But the field was full of kids -- some barefoot, some shirtless, all eager to play. And for three hours, they played with great energy and enthusiasm, many of them demonstrating the kind of talent is so often associated with Cuban baseball.

Afterwards, Sister Bernadina, with a big smile and a powerful baseball swing, gathered the group together for prayer and a brief message from the Missionary Childhood Association, we could see the seeds of ministry taking root. The message? We'll be back to these fields again. You are loved and we want to get to know you better. We want you to embrace your faith and to join us as missionaries. The scene repeated itself at our next baseball clinic in Camaguey two days later, with more young missionaries being cultivated through the ministry of baseball.

Throughout my time in Cuba, I was struck by how charismatic, confident and articulate the young children we met were in their role as evangelists. With no Catholic schools in the country, and many parents who grew up without religion as part of their lives, these children have had to discover their faith much more independently, making a deliberate choice to be part of the Church instead of having someone make that decision for them. They take their role as missionaries seriously, and inspired me to think about how we can better cultivate this same sort of missionary spirit with the children we encounter in our own schools and churches.

Although the sport wasn't invented for another 1800 years, it's not hard to imagine Christ himself engaging in baseball ministry -- visiting a field in a poor community, perhaps with a baseball hat (definitely not a Yankees hat...) on his head and a bat and glove in his hands, joyfully welcoming all children to come as they are, ready to play, pray and grow together. There was wisdom in that sort of ministry of encounter during Jesus' time, and there certainly still is today in every church, school and community where we have been called to evangelize.

James Spillman is principal of Blessed Sacrament School in Walpole and was one of the participants in the Pontifical Mission Society's baseball mission to Cuba in May.