Local
Family recalls slain Stoneham sister as 'giving and caring'
By Mark Labbe Pilot Staff
Posted: 9/2/2016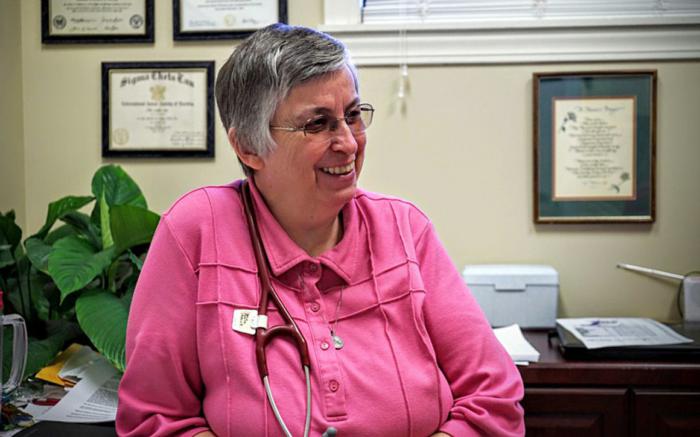 Stoneham, Mass, native Sister Paul Merrill, SCN, was found murdered in her home in Durant, Miss. Aug. 25, 2016 along with her co-worker Sister Margaret Held, SSSF. Photo from Sisters of Charity of Nazareth
---
STONEHAM -- The Stoneham family of a religious sister found dead in her Mississippi home Aug. 25 recalled her sister as hard-working, generous and kind.

Sister Paula Merrill of the Sisters of Charity of Nazareth, Ky., and a Stoneham, Mass., native, and Sister Margaret Held, of the Sisters of St. Francis in Milwaukee, were both found dead in their shared home in Durant, Miss.

The two sisters worked as nurse practitioners at the nearby Lexington Medical Clinic, and when they had not shown up for work on Aug. 25 co-workers called the local police to check on them.

Officers found signs of a break in and the bodies of Sisters Paula and Margaret, and concluded the two died of stab wounds.

According to the Mississippi Department of Public Safety, Rodney Earl Sanders, 46, of Kosciusko, Miss., has been arrested and charged with two counts of capital murder in connection to the slayings.

A car had been taken from the property, but authorities found it abandoned nearby. It was taken to the state crime lab for analysis.

Speaking from her Stoneham home Aug. 26, the day after the women were found killed, Rosemarie Merrill recalled her sister as, "a fun loving person and a very giving and caring person."

Rosemarie Merrill talked about her sister's early life, noting that "she always had the vocation."

"We have a number of sisters in our family, we have a number of nurses in our family as well, so the calling was there," she added.

She said that Sister Paula and Sister Margaret worked tirelessly to cater to the needs of their patients at the clinic, many of whom were poor.

"She and Sister Margaret did such wonderful, wonderful work ... . If patients couldn't afford their prescriptions, they'd work with the drug companies," Rosemarie Merrill said.

"She had her little slush fund (from) people who would give her donations, and they would use those to buy prescriptions for their patients," she added.

Rosemarie Merrill noted that besides Sisters Paula and Margaret, the only other healthcare provider at the clinic is a doctor.

"The Holmes County community does not know at this point how much they have lost," she said.

David Merrill, the son of Rosemarie Merrill and nephew of Sister Paula, also spoke of the work his aunt and Sister Margaret did, saying "they were definitely doing everything they could for the community."

Rosemarie Merrill said that she had visited her sister frequently, spending three weeks with her in February, and that Sister Paula had been planning to return to Stoneham in mid-September.

"It's my brother's birthday and two of my nephews' birthdays that week, so we were going to have a big family birthday bash," she said.