Local
CSF caps summer for students with Fenway tour
By Donis Tracy Pilot Correspondent
Posted: 9/9/2016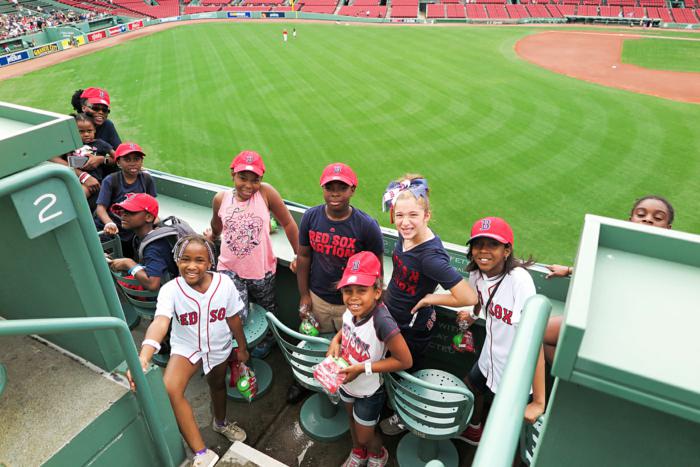 Students from Pope St. John Paul II Academy tour the Green Monster as batting practice is about to begin. Pilot photo/Donis Tracy
---
FENWAY PARK -- "What a cool way to start the year," exclaimed George Kostolias, an eighth grader from St. Pius V School in Lynn.

Kostolias, together with nine other students from St. Pius V School were among 75 Boston-area Catholic school students and chaperones who participated in the Catholic School Foundation (CSF) Youth Day at Fenway Park.

As participants registered for the Aug. 31 event at the Wheels Up Clubhouse adjacent to Fenway Park, they were each given a new Red Sox hat as well as $15 voucher toward food inside the park. Younger students were also given a Wally The Green Monster piggy bank.

Students and chaperones were then treated to a behind-the-scenes tour of Fenway Park and watched batting practice atop the Green Monster. The event rounded out with admission to the day's game against the Tampa Bay Rays.

The special day for Catholic school students was made possible by a donation from Bank of America, explained Hillary Laggis, director of corporate partnerships at the CSF. She noted that the CSF has had a "strong ongoing corporate partnership" with Bank of America, whose market president, Miceal Chamberlain, is also a member of the Board of Trustees of the CSF.

Laggis explained that all the Catholic schools that work with the CSF were notified of the event, and tickets were handed out on a first come, first served basis.

"We were very happy to be able to accommodate students and chaperones from Lawrence Catholic Academy and Bellesini Academy, both in Lawrence; Saint John Paul II Academy Lower Mills in Dorchester; St. Mary's in Brookline, St. Pius V School in Lynn and St. Catherine of Genoa in Somerville," she said.

Following the game -- in which the Red Sox pulled ahead of the Rays in the bottom of the eighth inning for the win -- children were given the opportunity to go onto the field and run the bases.

"This has been so much fun," said Yael Gomez, an 8th grader from Lawrence Catholic Academy. "I've never been to a game here, and this was really great."