Local
Parish's Year of Mercy effort helps clothe African children
By Mark Labbe Pilot Staff
Posted: 9/9/2016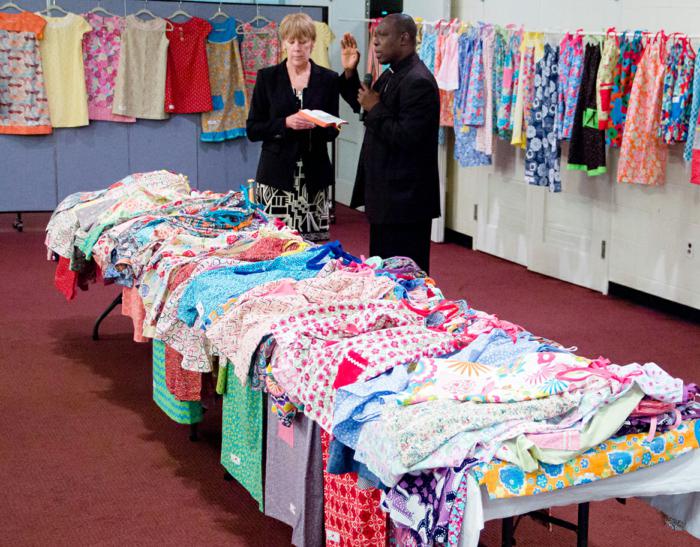 Bishop Dennis Kofi Agbenyadzi blesses clothes to be donated to children in his diocese of the Central African Republic by the Mercy Sews ministry of the Holy Mothers collaborative in Hanover and Norwell, Sept. 1. Pilot photo/Mark Labbe
---
HANOVER -- Before blessing the 270 dresses made by the Mercy Sews ministry of the Holy Mothers collaborative in Hanover and Norwell, Bishop Dennis Kofi Agbenyadzi of the Central African Republic, expressed his gratitude.

"What you have done is going to bring so much joy," he said Sept. 1 in the activity center of Saint Mary of the Sacred Heart in Hanover, looking out at the hundreds of articles of clothing hung around the room.

"You might not meet them, but love crosses all the oceans. In love, distances do not exist. In love, distances are brought closer, and this love will also make you feel their progress," he continued.

The dresses, along with 233 t-shirts purchased by the ministry, are going to be given to children in the Central African Republic, particularly children of the pygmy populations there.

While he has served as a Bishop of the Central African Republic since 2012, Bishop Agbenyadzi is no stranger to Massachusetts. Prior to being named a bishop, he served as a priest of the Society of African Missions.

His assignment brought him to St. Mary of the Sacred Heart in Hanover, where he developed a friendship with Father Chris Hickey, pastor of the Holy Mothers Collaborative, which encompasses St. Mary of the Sacred Heart and St. Helen Mother of the Emperor Constantine in Norwell. That friendship has led him to visit the area almost every year for about a decade.

It was also because of that friendship, as well as the call to action of the Jubilee Year of Mercy, that the Mercy Sews ministry was formed.

"We've had this wonderful relationship with the bishop for a few years, and so it just came about that we thought just step forward and do a work of mercy," said Clare Noonan, one of the founders of the group.

That work of mercy, Noonan said, was to take the form of clothing, something that parishioners at the collaborative knew many children in the pygmy communities in the Central African Republic were in need of.

Historically a marginalized population, Bishop Agbenyadzi had worked among the pygmy populations for around eight years.

"That was my first mission... these people touched me so much," he said.

"They are poor, but happy. They have been marginalized by other groups. So, in this year of mercy, Pope Francis says let us reach out to the peripheries... My intent is (to reach out to) the pygmies first, then we reach out to other peripheries," he said.

The Mercy Sews group has around 35 members, each with their own role.

"We have some people that sew, some people that said 'I don't sew, but how can I contribute?'" Noonan said, noting that many of those who do not sew donated money.

It is her hope that the ministry will continue past the Year of Mercy.

"We're looking to expand this, we're looking for others that want to reach out to these children," she said.

"We hope that this is an act of some outreach of love from our community," she continued.

Father Hickey praised the ministry, calling it a "very tangible way to help the poor."

He said that the parish's relationship with Bishop Agbenyadzi has had a positive impact on its parishioners, and has been a learning experience for them as well.

"What I love is that people know... where the Central African Republic is, they've heard of it," he said.

Landlocked in the middle of Africa, the Central African Republic recently was thrust into the international spotlight when Pope Francis opened the first Holy Door of Mercy at Cathedral of Bangui, Nov. 29.

The door was declared the first Holy Door of Mercy of the Year of Mercy, which officially started on Dec. 8 when Pope Francis opened the Holy Door at St. Peter's Basilica in Vatican City.