Local
CatholicTV Network breaks records with 25th anniversary telethon
By Pilot Staff
Posted: 9/16/2016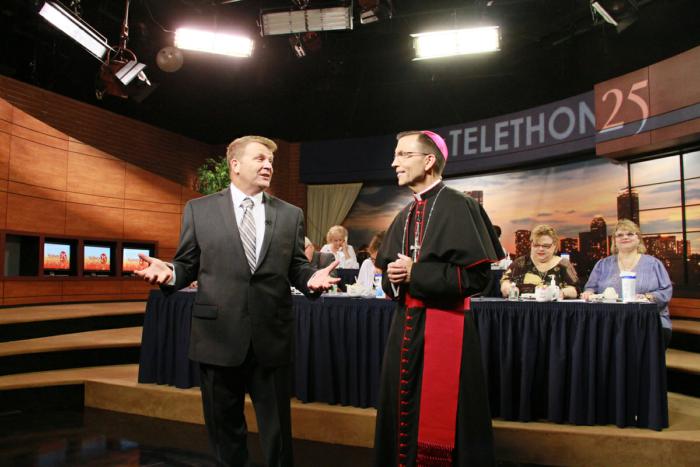 CatholicTV general manager Jay Fadden and president Bishop Robert Reed speak during the network's record-breaking 25th annual telethon. Pilot photo/courtesy CatholicTV
---
WATERTOWN -- Multiple records were broken during a two-day CatholicTV Network Telethon this month, including the record for most money raised overall.

Hosted by Bishop Robert Reed, Jay Fadden, Kevin Nelson, and Kate Andrews Sept. 9 and 10, the network's 25th annual telethon raised more than $319,000 from viewers across the United States.

Among the records broken during the silver jubilee telethon included: most money raised on the first day of a telethon, most matching gifts, most money raised online, and most money raised overall. The telethon also set a new record for the most states donating, with pledges coming in from 43 states made both over the phone and online.

An important fundraiser for the network, money raised during the event supports the broadcast of the daily Mass, prayers, papal programming, and other educational and inspirational programming.

The event featured a variety of acts, including musical performances by Sweet Harmony, the Ursuline Academy Choral Group, and Diana Doyle, and a magic act by Ryan Lally. The event also included highlights of the network's regular programming and a look back at CatholicTV's 25-year telethon history.