Local
Regina Cleri strengthening bonds with neighboring West End parish
By Mark Labbe Pilot Staff
Posted: 9/16/2016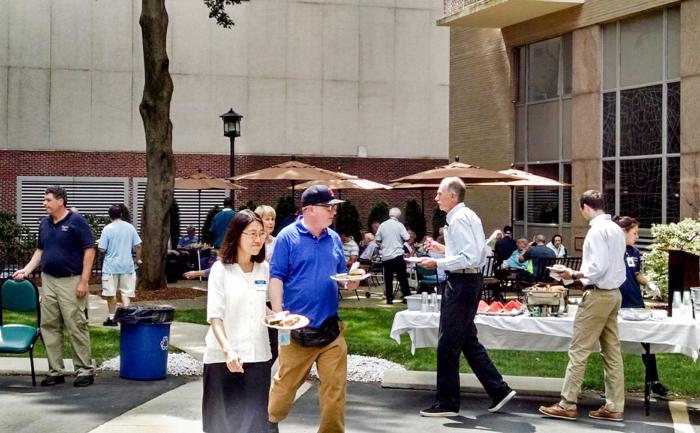 Guests from Regina Cleri and St. Joseph Parish in Boston's West End enjoy a joint cookout last month. Pilot photo/courtesy Regina Cleri
---
WEST END -- For years, the retired priests living at the Regina Cleri residence for retired priests and the parishioners of the neighboring St. Joseph Parish have maintained a friendly relationship, and that relationship has lately been growing even stronger.

It started this summer, when Regina Cleri held a cookout and asked the parishioners of St. Joseph to join.

The cookout "was kind of an introduction for us just to say hello," said Stephen Gust, director of Regina Cleri.

Around 50 to 60 parishioners attended the cookout, where they were able to connect with the retired priests in a casual atmosphere and tour Regina Cleri.

Gust hailed the cookout as a success, and since then Regina Cleri and St. Joseph have been collaborating on potential future events and activities to draw the residents and the parishioners closer together.

One such event is a dinner show being planned by St. Joseph Parish.

"We're in the stages of planning an evening of entertainment and dinner -- a dinner show, if you will -- that will be on-site at St. Joseph's for the residents of Regina Cleri," said Father Joe White, pastor of St. Joseph Parish.

Singing waiters and waitress would work the dinner, and a themed show would follow it.

"We have a few folks that are going to bring talent for the show," said Father White, who noted that the theme of the show is still being debated.

Father White is also in talks with Regina Cleri resident Father James Broderick, who has expressed interest in teaching a bible study course in Sacred Scripture at the parish.

Father Broderick is planning on starting his course in the New Testament, and has a goal of not only teaching on the Scriptures themselves, but also on their historical context.

"There is an underlying element that people haven't been exposed to, the history of the Gospel, the history of the times in which Jesus lived, the geography of the place in which he lived. All of these things are important towards a better understand of what it was like (when Jesus lived)," said Father Broderick.

Collaboration between Regina Cleri and St. Joseph Parish is nothing new, as the retired priests "have come and assisted sacramentally at St. Joseph's for years," including celebrating Mass, said Father White.

Yet, he said, the new efforts being made is forming their previous connection into something that is "truly a relationship."

"It's nice to see the priests mingling with the parishioners... The priests at Regina are really wonderful, charming folks, and the people really appreciate them," said Father White.

The retired priests are enjoying the new collaborative efforts as well, as more and more have been attending events held by the parish.

The parishioners "remind them of their days as pastor, or their days of running programs," said Gust, noting that these new efforts are not "something we're not looking to just do for the fall."

"This is going to be continual," he said.