Local
Virtual tour of Vatican Museums comes to Gloucester theater
By Mark Labbe Pilot Staff
Posted: 9/16/2016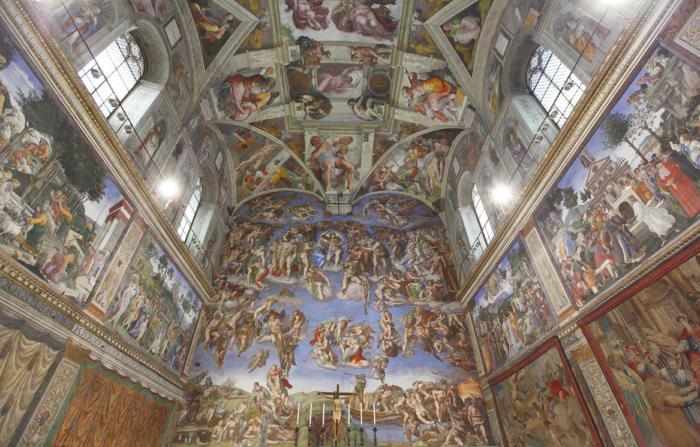 The Sistine Chapel in the Vatican Museums. CNS file photo/Paul Haring
---
GLOUCESTER -- Seeing the priceless artwork held in the Vatican Museums normally would require a trip to Vatican City, but thanks to a "rare" opportunity, Gloucester Cinema in Gloucester is offering moviegoers a chance to get an inside look at the museums next month.

On Sunday, Oct. 9 at 10 a.m. and again on Tuesday, Oct. 13 at 7 p.m., the theater will be showing the film "The Vatican Museums." While the film was produced as a 3D movie, this local showing will be in traditional 2D.

A 2014 SKY production made in collaboration with the Vatican Museums Directorate, the film offers an inside look at the "Vatican Museums and the Sistine Chapel to show the masterpieces in these collections as they have never been seen before," promotional material for the movie reads.

"A mega-production by a team of 40 professionals who, in the magnificent setting of the Vatican Museums, traveled hundreds of miles while filming amazing night-time footage through the halls which house some of the most rare and precious works of art in the world, spanning all cultures and all epochs," it continues.

The film will be shown as part of Gloucester Cinema's Arts and Architecture Series, which in August and September featured another SKY production, "St. Peter's and the Papal Basilicas of Rome."

Theater owner John Williams called the chance to show the film "exclusive and unexpected."

"I have been to the Vatican with my family, and we were first into the Sistine Chapel on the morning we visited," said Williams.

"If the official trailer is any indication of what to expect, it will be worth the trip to see the movie," he continued.

That trailer can be found on the film's website, www.thevaticanmuseumsincinemas.com.