Local
Six to be ordained permanent deacons Oct. 15
By Pilot Staff
Posted: 10/7/2016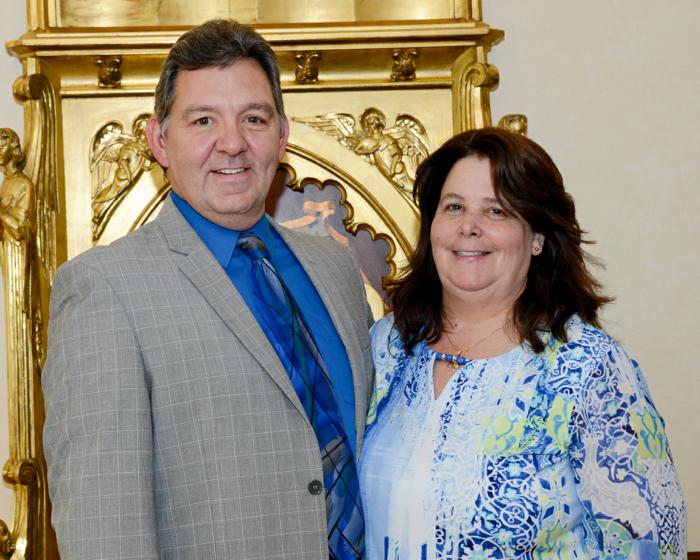 Paul and Anne Breadmore Photo courtesy/Deacon Timothy F. Donohue
---
BOSTON -- Cardinal Seán P. O'Malley will ordain six men to the Order of Permanent Deacon at the Cathedral of the Holy Cross on Saturday, Oct 15 at 10 a.m.

Their four year journey to the diaconate began in September 2012 when these six men began attending classes two nights a week and gathered once a month on Saturdays for formation. The program requires two retreats a year, one with their wives and one together with their class. The program offers the men the option to complete their Master's Degree in Theology after ordination with a few additional courses at the Theological Institute for New Evangelization.

The Permanent Diaconate Program is open to men between the ages of 35 and 60, married or single, who are called to serve as ministers of the Word, of the Liturgy and of Charity. There are currently over 200 men serving as permanent deacons in the Archdiocese of Boston and over 17,000 men serving across the United States. In the Boston area, deacons serve as chaplains in hospitals and prisons, high schools and on college campuses. Deacons regularly assist at the liturgies in parishes, administer the sacraments of baptism and matrimony and serve in administrative positions in the archdiocese. Permanent deacons in the Archdiocese of Boston are given two assignments, one to a parish and a second assignment to a particular department within the archdiocese.

Following are brief biographies on each of the men being ordained this year.

Paul Breadmore

Paul Breadmore and his wife Anne have been members of St. Bridget's Parish in Abington for 20 years. Breadmore is a Project Coordinator for Walsh Mechanical in Abington, and his wife Anne works for Rockland Trust Company. They have two adult children Kylie, and Austin.

Breadmore credits his Aunt Ethel and his Uncle Bob with providing a strong faith foundation that led him to his service to the Church. Over the years, Breadmore has participated in various ministries at St. Bridget including marriage preparation, wedding ministry, religious education, lector and extraordinary minister of Communion. During his time in ministry, Breadmore lived Cursillo and attended various retreats to discern what he felt was a deeper call to service.

He commented, "These past four years in formation have enriched my life personally and spiritually. The instructors, my classmates and their wives have helped me to deepen my prayer life and understand that God is always at work in our lives and sometimes that is through the loving caring people that surround us."

Paul will be assigned to the collaborative of St. Bridget Parish in Abington and Holy Ghost Parish in Whitman. Paul's secondary assignment is to the Archdiocesan Office of Marriage Ministries.

Joseph Cooley

Joe Cooley and his wife Ceci are members of St. Charles Borromeo Parish in Woburn. They sing in the choir, serve as lectors, assist with Marriage Preparation, and Unbound Deliverance Ministry. Cooley works in the computer security field and he is pursuing a Master of Theological Studies degree.

Both Cooley and his wife are transplants from Minnesota. His faith journey began as a youth as he watched his grandfather say the rosary on his knees, learned prayers from his grandmother, and went to Mass with both sets of grandparents on weekend visits when he was a toddler. During his teenage years his insistent father ensured that he attended Mass even when he didn't want to go.

Cooley's faith life deepened after meeting his wife in college and returning to reconciliation after a long hiatus. He said, "The Holy Spirit dwells in lovely places (cf. Ps 84:2)! My faith grew even deeper when my sister asked me to be a Confirmation sponsor for her child and the Blessed Mother drew me closer through the rosary, Divine Mercy Chaplet, and mediation on Jesus' Passion."

Cooley first heard the word "deacon" when his aunt spoke the words; it had never crossed his mind before. She said he "sounded" like a deacon when he asked his uncle to attend First Friday Mass.

After hearing the word "deacon" and his name in the same sentence over several years, Cooley thought he might have a serious vocation and finally brought his calling to prayer. His answer came while praying on the 13th Station of the Cross, where he saw Jesus in the arms of his mother. Cooley understood his call was real, and he began his journey by applying to become an aspirant in the diaconate.

He said "my family, friends, and all of their prayers have been instrumental in bringing me through the winding road that has led to my call to the diaconate and this grace-filled time."

Cooley will be assigned to St. Patrick Parish in Stoneham. His secondary assignment is to the Archdiocesan Office of Spiritual Life.

John Czajkowski

John Czajkowski's path to ordination started in Maryland, where he completed the first three years of deacon formation with the Archdiocese of Baltimore. After long careers in the federal government, he and his wife Jenny moved to Boston in 2014 to pursue new careers in education and biomedical research. Czajkowski joined the Deacon Formation program here in Boston as a member of the Class of 2016.

A lifelong Catholic, Czajkowski credits his grandmother, Helen, as an early and important Catholic role model. "She was stubborn and resolute in practicing her faith, including a daily prayer regimen that I use for inspiration still today," he said, "and it was from her that I learned about serving others, caring for people in need."

Czajkowski and his wife initially joined St. Paul's at Harvard Square, but Deacon Formation led them to St. Peter Parish in Cambridge when Czajkowski was partnered with Deacon Tim O'Donnell. At St. Peter's, the couple have been active members of the parish and participate in several ministries. They have four children and reside in Brookline.

Czajkowski will be assigned as Deacon at St. Peter Parish in Cambridge and is also assigned to the Archdiocesan Pro-Life and Respect Life Office.

Charles Hanafin

Chuck Hanafin and his wife, Judy, have been married for over 36 years and reside in Burlington. They attend St. Margaret of Antioch Parish. Hanafin is the oldest of 11 children and his wife is from a family of 9 children. They have 5 children: sons Charles, Christopher, Matthew and Daniel, and daughter Jean Marie. They also have 2 daughters-in-law, Mary Ann and Amanda, and 4 grandchildren, Cora, Jack, Grace, and James. Hanafin retired from the Massachusetts State Police after 31 years of service.

"My faith has always been a priority in my life. When I was young I thought I would become a priest. After high school I knew I was called to be a husband, father, and now a grandfather," Hanafin said.

Hanafin has always been active in his parish, teaching CCD, serving as lector, extraordinary minister of Communion, and training altar servers.

When asked how he knew he had a vocation to the diaconate, Hanafin said, "the call to the Diaconate came from multiple sources as soon as I retired from the State Police, changing my plans dramatically. The diaconate is an extraordinary opportunity to serve God, his Church, and his people."

Hanafin will be assigned as Deacon to St. Patrick Parish in Stoneham and also to the Archdiocesan Pro-Life and Respect Life Office.

John Kobrenski

John Kobrenski and his wife Patrice have two children; Elizabeth and Matthew. Elizabeth is married and has two children; Claire, age 4 and Benjamin, age 1. Kobrenski is a registered nurse and currently is employed by Davita Dialysis and Acute Hemodialysis at Lawrence General Hospital.

The Kobrenskis reside in Methuen and attend St. Lucy's parish. He is a lector, and serves with his wife as an extraordinary minister of Communion.

Kobrenski shared that he had an intimate experience with the Lord when he was a young man in the Army that led him to want to spend his life following Jesus. "I learned to pray and felt a deeper and deeper need to respond God's call," he said.

Kobrenski became a Secular Franciscan in 1984, but always felt called to do more.

"I realized that I was called to a life of service and devoted this calling to my work as a nurse,'' he said. "After my daughter's wedding in 2010, I happened to see an article about the permanent diaconate. The calling came back and I decided to pursue it, even though I knew the odds were against it ever happening. But praise the Lord; here I am looking forward to ordination. God is always with us and never forgets us. In my prayer, I thank him for all he has done for me to lead me up to this point. I can see things that have happened in my past that have led me in this direction that can only have happened by his will and future plans for me. I try to speak with him daily and listen to his will for me. Doing his will is my life."

Kobrenski will be assigned as deacon to the collaborative parishes of St. Lucy Parish and St. Monica in Methuen. He will also be assigned as Deacon to the Archdiocesan Office for Chaplaincy Programs.

John Koza

John Koza and his wife Janet are members of St. Mary of the Annunciation Parish in Danvers. Koza is a librarian at North Shore Community College, and his wife is a 5th grade math and science teacher in Lowell. They have two married children. Stephen and Michelle Koza live in Brooklyn, N.Y., and Anne and Taylor Patrick live in East Boston.

The Kozas have been active in various ministries in their parish, including those of extraordinary minister of Communion, lector, music, and marriage preparation.

Koza was drawn to the diaconate early in his marriage, but was not yet old enough to pursue the vocation. His call resurfaced later, after the children had grown.

He said, "Janet provided the direct encouragement to answer the call and begin the process of discernment. The grace of her constant support and prayer has been a great blessing that has brought me to ordination."

Koza is also a professional musician, both as a freelance clarinetist, and as conductor of the Salem Philharmonic Orchestra. He is also the assistant conductor of its affiliated youth orchestra. He has a deep interest in Orthodox iconography, and has studied icon painting in the Russian style.

Koza will be assigned as deacon at St. Mary of the Annunciation Parish in Danvers. His other assignment will be to Archdiocesan Office for Ecumenical Affairs.