Local
Lawn Party raises $250K to support Pope St. John XXIII Seminary
By Mark Labbe Pilot Staff
Posted: 10/7/2016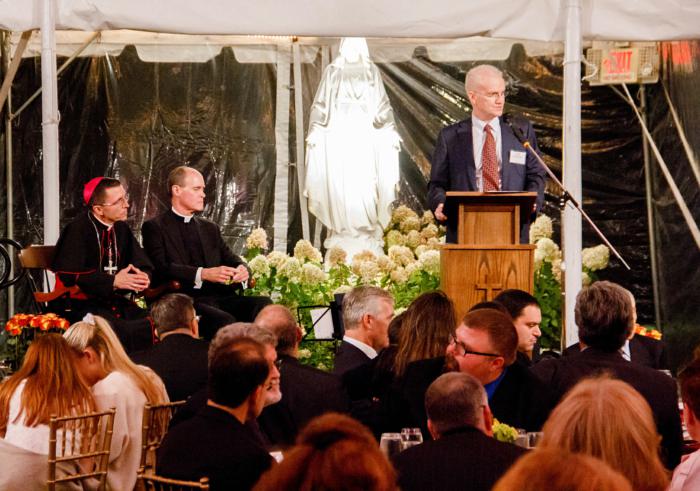 Dinner chair John Corcoran addresses guests at Pope St. John XXIII National Seminary Annual Lawn Party. Looking on are Bishop Robert Reed and seminary rector Father Brian Kiely. Pilot photo/Mark Labbe
---
WESTON -- Looking out at the around 350 people who had gathered to support Pope St. John XXIII Seminary, Sept. 28, John Corcoran, Chair of the night's annual Lawn Party, spoke of the goodness of the seminarians.

"The seminary is full of men like this -- really good men of character and humility, kindness. Men of deep commitment to the faith," he said.

"One thing that's certain is they will make excellent priests," he continued.

Held under a large tent on the seminary grounds in Weston, the 35th annual Lawn Party was chaired by Julie and John Corcoran and family. The event raised close to $250,000 for the seminary this year.

Established in 1964, the Pope St. John XXIII National Seminary has provided for the formation of men over age 30 in the United States for the past 52 years. Throughout those years, candidates have come to the seminary from over 140 dioceses and 23 religious communities, and work in vocations around the world.

In his opening remarks, John Corcoran thanked those in attendance for their support to the seminary and offered them a piece of advice -- to "make some noise."

"I think what we need to do as laypeople is what the followers of Christ did, and that is to make some noise. The men who leave here for ordination will certainly be making some noise, and they need you, the laity, walking with them and making noise with them," he said.

"So, I think, when you leave here tonight, figuratively, if not literally, find a branch and wave it in the air... and when you do so, forward it, tweet it, blog it, post it, tell the world. Make some noise," he said.

The Lawn Party also served as an opportunity to introduce the seminary's new rector, Father Brian R. Kiely.

Appointed rector in September, Father Kiely served most recently as the Regional Vicar of the West Region of the archdiocese, and prior to that was pastor of St. Patrick Parish in Natick.

Speaking to the attendees, Father Kiely expressed his gratitude for the work of the past rectors of Pope St. John XXIII Seminary, and said that although he has only been rector of the seminary for a short time, it has been a "profound joy" for him.

"I have seen firsthand how God can work if you are open to things, and I also see tonight how he has worked in your contributions and your prayerful support and your financial support to allow this seminary, this beautiful gift to the Church, to flourish," he said.

He then thanked those who have supported the seminary, saying that they will always be remembered.

"We are here because of you, we are here because God has put us here, and I say tonight to you, I repeat what St. Paul said, 'I thank God whenever I think of you, and when I pray, I pray with joy, remembering how you have helped us spread the good news of Jesus Christ.' You will always have a permanent place in our hearts and in our prayers at the altar," said Father Kiely.

Traditionally, at the annual gathering, two seminarians share their vocation stories with the guests.

The first to speak was seminarian Christopher Koehn, of the Class of 2018. From North Carolina, Koehn recalled how he used to work in his family's business of remodeling hotels.

While he said he enjoyed his job, he felt that he wanted to work for the Church, and after "18 years of renovating hotels, I started making plans to work for the Church full-time."

"I took an early retirement, and offered to work for the Church. Now, I thought I was too old for priesthood, but the vocation director said the bishop could hire other project managers, but what the Church really needed was parish priests," said Koehn.

So, he was sent to Pope St. John XXIII Seminary, where he has been for three years. His time at the seminary has been "wonderful," he said, and his fellow seminarians have been inspirational to him.

"Leaving our careers behind to follow Jesus Christ is not special here, it's normal. We support each other in class, and in chapel, and in fun," said Koehn.

Koehn's remarks were followed by those of Peter Adamski, a member of the Class of 2019.

As a young man, Adamski said, he had wanted to join the seminary, but instead met a woman who later became his wife.

"It was a beautiful marriage," he said, but, a few years ago, "after 40-plus years of marriage," she passed away from cancer, kidney disease, and Alzheimer's.

Adamski said he took care of his wife as she was dying.

"Now, my wife died four days after I brought her home from the hospital while I was holding her hand, telling her how beautiful she was, and how much I loved her, and how grateful I was for her having shared her life with me. And I also told her that she was about to see the face of Christ, and while I was holding her hand, I was reciting the Lord's Prayer when I watched her take her last breath," he said.

He said they talked about what he would do with the rest of his life before she died, and she was supportive of his idea to return to the seminary. It was something he said he thought a lot about after she passed.

"The Lord left me alone for a few months after she died, but then he started to pull at my heart strings, and he would wake me up in the middle of the night with thoughts of a renewed vocation calling. I would try and go back to sleep, but eventually I would have to get myself out of bed, go into the living room, put a little dim light on, and just sit there and listen to him talk to my heart, to my mind," Adamski said.

"Those late nights of prayer have now led me here to Pope St. John XXIII," he continued.

He said he used to be the CEO of a $400 million company, but now, "I'm a full-time student, living in one small room, sharing a bathroom, for the first time in my life, at age 63."

"I'm writing academic papers, something I haven't done in nearly 40 years, and studying Church history and pastoral theology and growing spiritually and in my intimacy with our Lord and savior Jesus Christ, and I'm loving every minute of it," he said.

The seminary, and his transition into it, would never have been possible with the financial support of those in attendance, Adamski said.

"Your financial support helps to pay the salaries, to feed us, and provide for the maintenance of this multipurpose structure. We benefit every day from the help that you provide here. So, on my behalf, and the behalf of all of my brother seminarians, let me say thank you," he concluded.