Local
St. John's Seminary reacquires Annex from Boston College
By Donis Tracy Pilot Correspondent
Posted: 10/28/2016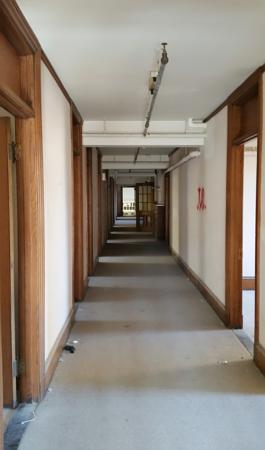 A look down one of the hallways of the St. John's Seminary Annex that was reacquired by the seminary this week from Boston College. The rooms of the Annex have gone unused for decades and will now be restored to serve the burgeoning seminary population. Pilot photo/Donis Tracy
---
BRIGHTON -- Msgr. James Moroney, rector of St. John's Seminary in Brighton signed a Purchase and Sale agreement with Boston College on Oct. 20 to buy back more than 13,000 square feet of space within the current seminary building.

"I am so very happy to be able to announce the purchase of the Annex," Msgr. Moroney said. "Right after I became rector of the seminary, one of the great dreams that both Cardinal (Seán P.) O'Malley and I began to articulate was the restoration of the seminary to a certain wholeness."

By purchasing the Annex, located above the present kitchen and refectory space, the current St. John's Seminary buildings will now be owned "free and clear, without any leases or encumbrances of any kind" by St. John's Seminary, Msgr. Moroney said.

The purchase comes in response to the rapidly growing number of men entering St. John's Seminary to study for the priesthood. Built in 1884 by Archbishop John Joseph Williams, the seminary had seen the number of seminarians dropping significantly, to an all-time low of 22 men studying for the priesthood in 2005.

"Having experienced, in the last 10 years, the most extraordinary growth the seminary has witnessed in its entire lifetime," Msgr. Moroney continued, "we are in desperate need for space."

He said that in September, when the seminarians returned to St. John's Seminary, there were 98 men living at St. John's Seminary.

"We had seven more men than space for them," he said with a smile, adding that the St. John's Seminary Board of Trustees purchased a neighboring house for additional space. The property, called Cheverus House, currently is home to seven of the 12 deacons at St. John's Seminary.

The Annex became part of Boston College in the early 2000s. Having purchased St. Clement Hall, an adjacent building to the seminary, they asked Saint John's Seminary for additional rooms not being used. Because the Annex had not been used since the 1960s, Saint John's Seminary agreed to a 99-year lease on the Annex.

With the signing of the Purchase and Sale agreement, Msgr. Moroney explained, St. John's Seminary has bought back that 99-year lease.

This comes after "extended discussions" between Msgr. Moroney, Cardinal O'Malley and Boston College President Father William Leahy, SJ.

"I doubt there's been a month that has gone by since I became rector when Cardinal Seán and I have not spoken about this," Msgr. Moroney said.

Msgr. Moroney noted that since the Annex has not been used since the mid-1960s, the rooms "will have to be brought back to the studs" and remodeled. Currently, three different architectural firms have brought their proposals to the seminary's board of trustees.

Msgr. Moroney noted, "There is enormous possibility that our newly returned Annex can bring."