Local
Legislator warns against 'terrible message' of proposed pot law
By Brian Fraga Pilot Correspondent
Posted: 11/4/2016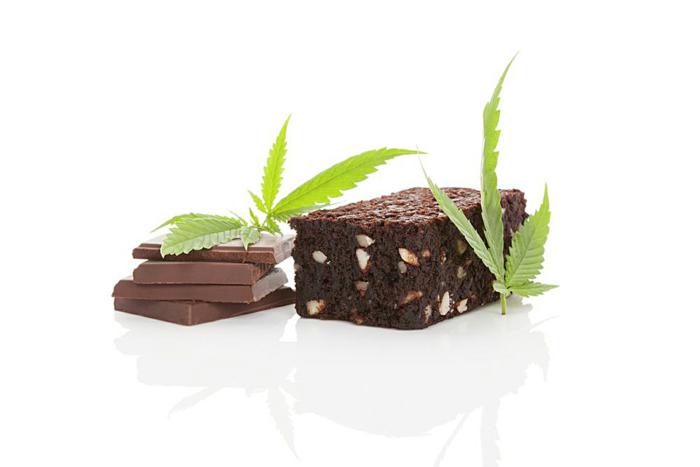 Cannabis chocolate and cannabis brownie with marijuana leaf. Shutterstock.com
---
BOSTON -- Two years after Colorado voters legalized marijuana through a ballot question, Denver today has more marijuana-related businesses than Dunkin Donuts and Starbucks combined.

"Are we ready for that? That's the question," said State Sen. Viriato "Vinny" deMacedo, a Republican from Plymouth.

DeMacedo is the Republican senator on a legislative taskforce that opposes Question 4, a statewide ballot question that asks Massachusetts voters if they want to decriminalize marijuana.

The proposed law would allow Bay State residents over 21 to possess, use and grow recreational marijuana. The law would also create a state licensing commission to regulate businesses that would sell marijuana products, including edibles such as cookies and gummy bears.

"I think it sends a terrible message to our young people in the commonwealth of Massachusetts to say, 'We're okay with this despite everything going on in our society,'" said deMacedo, who estimates that he has done more than 25 presentations around the state against Question 4.

The ballot question's supporters argue that legalizing recreational marijuana in Massachusetts would regulate what is already a large black market, generate millions of additional tax revenue every year and create thousands of new jobs in the state.

The proponents also say that marijuana is less harmful and addictive than alcohol, and that legalizing recreational marijuana for adults would free up police to respond to and investigate more serious crimes.

But the ballot question's opponents, which include the Catholic bishops of Massachusetts, counter that legalizing recreational marijuana will devastate communities and create a new legal pathway for individuals to get addicted to other drugs, including heroin.

"As an archdiocese, we are particularly concerned about the serious risks to youth that would follow the enactment of this proposed law," Cardinal Seán P. O'Malley recently wrote on his blog. The cardinal said the archdiocese has contributed $850,000 to the Campaign for a Safe and Healthy Massachusetts, which is working against the ballot measure.

On Oct. 18, deMacedo presented the case against Question 4 to an audience of interfaith leaders at the Archdiocese of Boston's Braintree headquarters. He argued that misunderstandings of what Question 4 entails explains the public polling that indicates a majority of Massachusetts voters support the question.

"A majority of people might not care about other people smoking pot at home, but if they understood what's in this ballot question, the numbers would be very different," said deMacedo, who notes that a considerable amount of out-of-state money has gone into supporting the proposed law.

DeMacedo also said many voters may not realize that half of the marijuana-related products to be sold would be food designed in such a way to be attractive to young people, such as lip balm, cookies and candy.

Promoting the recreational use of a controlled substance such as marijuana -- which the federal government still classifies as a Schedule 1 substance for having no medicinal use -- would also send a "terrible message" to the public, while state authorities respond to the fallout from the opioid epidemic.

Said deMacedo, "We're in this huge drug crisis we're dealing with, and with all the challenges we're fighting to try to get a hold of this, why would we open up the door to a commercialization of another controlled substance industry?"

Another crucial weakness in the proposed law, deMacedo said, is that it would also lead to more people driving under the influence of marijuana and fatal accidents. DeMacedo said a AAA study showed marijuana-related fatal car crashes increased by nine percent in one year after Washington state legalized recreational pot in 2012.

And because there is no mechanism in place for police officers on the road to test for THC -- the active mind-altering ingredient in marijuana -- akin to a breathalyzer for blood alcohol content, deMacedo said he is worried it will increase the propensity for someone to drive after smoking pot.

"To me, that is the scariest part of all this," he said.

DeMacedo was one of eight state senators who traveled to Colorado to meet with state officials and local political leaders there to get a sense of the effects of marijuana legalization and how to respond.

"After spending 4 days there, meeting with political leaders and people from the industry as well, I realized this was far bigger than what we had ever anticipated," said deMacedo, who was surprised by the number of pot-related businesses in Denver.

Unlike large western states like Colorado, Massachusetts is within a short driving distance of several states, and the ballot's opponents say legally-grown marijuana in Massachusetts will flood the black markets in those states. The proposed law would allow Massachusetts residents to grow up to 12 marijuana plants at home.

"There is no way a casual user of marijuana can consume 12 pot plants of marijuana," deMacedo said. "That will fuel the black market."

Even people with no ethical or moral problems with marijuana, deMacedo said, should be opposed to Question 4 because the argument that legalizing and regulating pot will eliminate the black market and its negative effects fails when analyzed in light of the facts.

"That argument is absolutely a bogus argument, as far as I'm concerned," said deMacedo.