Local
Merrimack students honor veterans through service day
By Mark Labbe Pilot Staff
Posted: 11/11/2016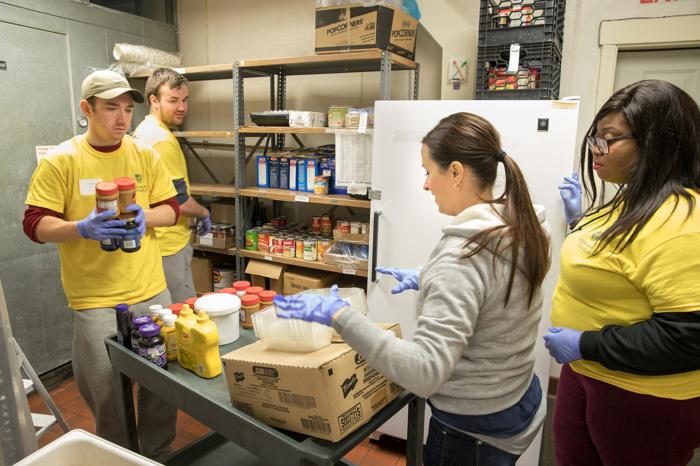 Merrimack College students help stock food at the Emmaus House shelter in Haverhill as part of the "Mack Gives Back Day," Nov. 5. Pilot photo/courtesy David M. Barron, Oxygen Group Photography
---
NORTH ANDOVER -- Around 1,300 students from Merrimack College in North Andover fanned out to nearly 50 locations across the Merrimack Valley region and Boston to provide community service during the school's annual "Mack Gives Back Day," Nov. 5.

Founded in 1947 by the Order of St. Augustine to provide educational opportunities to soldiers returning home from World War II, Merrimack College annually holds Mack Gives Back Day on a Saturday near Veterans Day as a way to honor those who have served by serving others.

Students participated in a variety of community service projects such as outdoor and indoor clean up at various locations, organizing the refrigerators, serving food at food pantries, and even painting a Christmas mural.

Dan Ulrich, a senior at Merrimack studying finance, spoke to The Pilot Nov. 8 about his experience with the day of service.

He said he works at the Campus Center, and he and his coworkers decided to participate in the service day together.

"We went into a piece of land that was donated to (Andover Village Improvement Society) by a contractor and we were clearing trails for the town," he said.

He and a group of about 50 people worked on the trails for three hours, Ulrich said.

"I think (Mack Gives Back Day) is a good way to come together as a community... We're really proud that our community is so great," he said.

"It was a really rewarding experience," Ulrich added.