Local
Archdiocesan palliative care initiative seeks to serve as national, worldwide model
By Mark Labbe Pilot Staff
Posted: 11/18/2016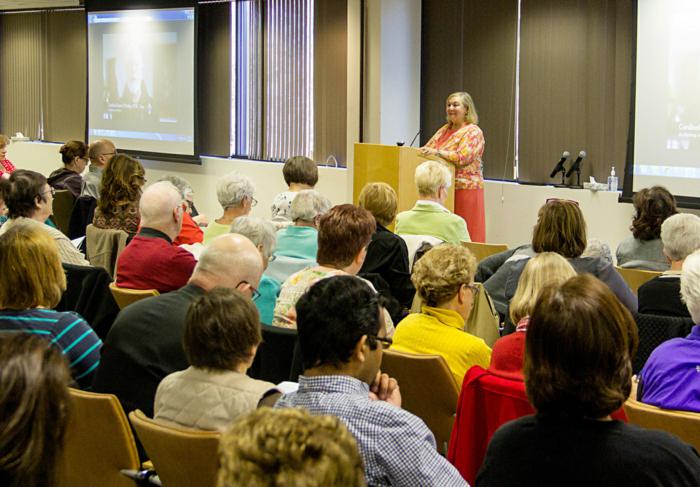 MC Sullivan speaks at the archdiocese's first Palliative Care Colloquium held at the Pastoral Center in April. Pilot file photo/Mark Labbe
---
BRAINTREE -- The Archdiocese of Boston's Initiative on Palliative Care and Advanced Care Planning may have gotten off the ground less than two years ago, but the initiative is already serving as a guide post for others.

"Part of what our initiative is meant to do is to serve as a model and a resource to other Catholic dioceses and other Catholic organizations across the country," said MC Sullivan, director of the initiative, in a Nov. 10 interview with The Pilot.

A health care provider, bioethicist, and lawyer, Sullivan said she has met with around a dozen dioceses so far, and has an upcoming meeting with the Pontifical Academy for Life.

The meeting with the Pontifical Academy, she said, is to inform them of the archdiocese's initiative, and offer it up as a model that dioceses across the world can use in their health care efforts and in efforts to combat the legalization of euthanasia.

Begun in early 2015, the Initiative on Palliative Care and Advanced Care Planning, with Sullivan at its helm, has served as a means to inform and educate people, parishes, and organizations within the archdiocese and beyond. That includes the other dioceses Sullivan has spoken with, as well as policy makers, health care policy groups, and members of Congress.

In addition, Sullivan has offered gatherings and workshops on the care model throughout the archdiocese, and has hopes of reaching even more people by partnering with CatholicTV to create a talk show-like program, "where we really have a chance to get in-depth about various scenarios, the nuts and bolts of how to get palliative care and what happens when you are receiving palliative care."

One of the messages the initiative works to promote is that palliative care is "the best model of care for anyone who is facing serious or chronic illness at any age."

To provide assistance to patients with such illnesses, palliative care seeks to establish an interdisciplinary team to address many of a patient's needs, including spiritual, psychosocial, and physical needs. Interdisciplinary teams might be made up of, at a minimum, physicians, nurses, social workers, and chaplains, Sullivan explained.

Importantly, palliative care also takes into account the needs of a patient's family and friends, acknowledging that they may require support as well while their loved one is ill.

The palliative care model of health care is still relatively new, stemming from modern-day hospice care.

Hospice care, or end of life care, is strictly focused on patients who are dying. This is distinct from palliative care, which is appropriate for patients of any age and at any stage in their chronic or serious illness.

However, Sullivan noted, while palliative care is not always hospice care, hospice care is always palliative care.

Developed in the United Kingdom in the 1950s, modern-day hospice care came to the United States in the 1960s. Research showed that by providing patients with such an interdisciplinary model of care, terminally ill patients seemed to feel better and generally lived longer than predicted.

The results encouraged people to take the care model used in hospice care and apply it to patients with chronic or serious illnesses, but who might not be dying.

"What we have found is that there are shorter lengths of stay in hospitals for people who have these chronic and serious illnesses, (and) there are fewer hospital readmissions" when palliative care is employed, said Sullivan.

"We're just beginning to do hard research," she continued, "but in terms of qualitative data, it is in, and it is resoundingly positive in terms of the impact (and) benefit to patients and families."

Those results are part of the reason why palliative care is also being billed as an alternative to the legalization of euthanasia or physician assisted suicide (PAS).

In the United States, five states -- California, Montana, Oregon, Vermont, and Washington -- have legalized some form of physician-assisted suicide. While rules and regulations differ from state to state, the general idea is the same: people diagnosed with terminal illnesses have the legal right to request and receive medication from a physician to facilitate their own death.

In Massachusetts, a similar piece of legislation, the Death with Dignity Initiative, appeared on the 2012 ballot. The initiative was narrowly rejected by voters, 51 to 49 percent.

Sullivan said that one of the main reasons people cite for supporting PAS is that it puts control in patients' hands, allowing them a choice in how and when they wish to die.

But, palliative care also gives patients control, Sullivan argued, saying it puts "the patient in control by focusing on what the patient tells us she or he needs."

"We believe that if palliative care is introduced early enough and is done properly, robustly... we believe that it responds to and refutes many of the reasons that supporters and proponents of physician assisted suicide give," she said.

"We believe that if robust palliative care is more widely available, physician assisted suicide becomes a non-event, a non-issue," Sullivan added.