Local
Pastoral workers train to help deal with effects of opioid crisis
By Mark Labbe Pilot Staff
Posted: 11/25/2016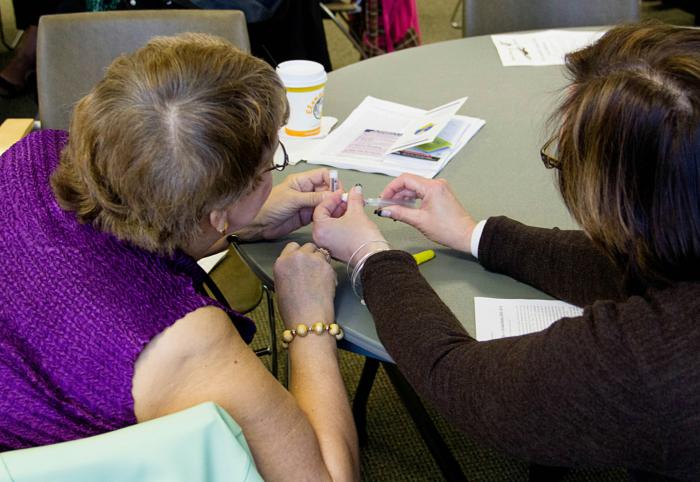 Participants in the Opioid Overdose Prevention Training session held at the archdiocese's Pastoral Center Nov. 18 get a look at a vial of the overdose reversal drug naloxone. Pilot photo/Mark Labbe
---
BRAINTREE -- At the Archdiocese of Boston sponsored Opioid Overdose Prevention Training session, Jeanne, one of the attendees, recounted how she lost her son from addiction related issues last year.

She said her son had struggled with addiction for eight to 10 years before passing away, and said that during that time, it was difficult for her to "find (her) way."

While she had been brought up Catholic, Jeanne said that while her son was struggling, she "had no place for God."

"He had deserted me," she said.

Yet, Jeanne recalled, her faith returned after her son's death.

"It's sad to say, but I think I found a faith of understanding that he finally found the peace he was looking for," she said.

Stories like Jeanne's were not unfamiliar with some of the other attendees of the Nov. 18 training session at the archdiocese's Pastoral Center, which was the last of five held during the week at various locations throughout the archdiocese.

Sponsored in particular by the Archdiocesan Addiction Recovery Pastoral Support Services (AARPSS), the sessions were designed to spread awareness of the rising levels of substance abuse, especially opioid abuse, in the state, and to teach attendees how to administer the opioid overdose reversal drug naloxone, also known by its brand name Narcan.

During the sessions, law enforcement officials were invited to speak about the rehabilitation programs for addicts in jails and prisons across the state, as well as the ways substance abuse is being combatted.

Each session also had a speaker demonstrate and discuss how to obtain and properly administer naloxone.

Deacon Jim Greer, director of the archdiocese's Heath Care Ministry, also spoke during the sessions, and discussed with attendees the different ways people can process grief. He offered tips on dealing with grief, particularly grief related to substance abuse.

Organizers said the sessions were well attended, with around 30 to 50 people participating in each one. Those in attendance included clergy, school staff, parish staff, medical professionals, and people who have been personally affected by substance abuse.

One of the attendees at the Pastoral Center training was Betsy Clifford, a pastoral associate at the St. Albert the Great and St. Frances Xavier collaborative in Weymouth.

She attended the Nov. 18 session, she explained, "because of the extreme seriousness of opioid addiction and the devastation it can cause to families."

In her role as pastoral associate, Clifford said she has come into contact with a number of grieving people who have lost their family members due to addiction.

"Especially with the passage of Question 4 (legalizing recreational marijuana), we need to be all the more vigilant. I'm just one person from my parish given this education, but I certainly hope more will do so in the future," she said.

Another pastoral associate, Sister Roberta Rzeznik, SND of Good Shepherd Parish in Wayland, said she attended the session simply to "see if there were ways that I could be pastorally helpful to anyone who might be affected by this crisis."

While she agreed that naloxone can be helpful in critical situations, she expressed hope that "instead of needing more people to be aware and available to use it, that hopefully we would be able to make an improvement in lessening the crisis rather than it growing."

A relatively new ministry in the archdiocese, the AARPSS is a network of support assistance to priests, clergy, and staff of the parishes and agencies of the archdiocese who are responding to those inflicted or affected by addiction.

In other words, AARPSS director Father Joe White told The Pilot, the goal of AARPSS "is to be pastorally, ministerially supportive" to individuals and families impacted by addiction.

"Addiction is a disease, and in the healing process, there's a spiritual component, and that's the piece AARPSS hopes to assist with," said Father White, who is also pastor of St. Joseph Parish in Boston.

In addition to helping put together the Opioid Overdose Prevention Training sessions, Father White noted that "there are now several areas throughout the archdiocese, be they at parishes or agencies, that are providing support prayer groups."

AARPSS also makes referrals for education and treatment, and members of the ministry participate in panels and boards concerning addiction across the state, said Father White.

As a new ministry, AARPSS still does not yet have a staff or a permanent office, Father White said. Yet, come 2017 that will likely change.

After a "soft launch" in January, "We anticipate launching (AARPSS officially) for the World Day of Sick in February," Father White said.