Local
Forming the Future: Good Shepherd School, Charlestown
By Donis Tracy Pilot Correspondent
Posted: 12/2/2016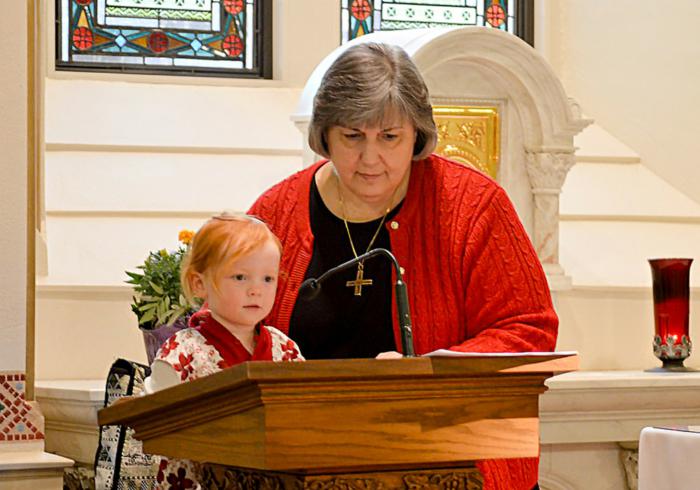 Sister Nancy Citro guides student Fiona Brady as she offers the prayers of the faithful at Good Shepherd School's weekly prayer service Nov. 14. Pilot photo/courtesy Good Shepherd School
---
CHARLESTOWN -- The first years of education "open the doors to learning," according to Jessica Maxwell, director of the Good Shepherd School, a Catholic preschool in Charlestown.

"By giving our young students a place to thrive, we help set them up to become learners in the future," she said.

There are 55 students at Good Shepherd School, all ranging in age from two years and nine months to five. These students are divided into four classrooms -- each based on their age.

According to Maxwell, the school runs much like a typical preschool -- with many hands-on projects, music, reading, learning colors -- "with a religious curriculum."

"We teach the children, at every turn, that God makes each of them special and unique," she explained.

In addition to learning about God in the classroom, students at Good Shepherd School participate in a weekly prayer service, led by Sister Nancy Citro, SNDdeN, at the St. Catherine of Siena chapel located on the premises of the school.

"All the children love that," said Maxwell, adding that "the children are included in the service -- they say prayers, sing songs and fully participate in everything we do."

Another way the school teaches the children about their faith is by building a strong community within the school, Maxwell said.

"We teach the children to care for one another, and for the world," she said, "and bring that sense of fostering a strong school community to their families as well."

Every month, the school hosts family programs in the evening in order to promote wider involvement in the school. Events such as "Pajama Movie Night" bring together the families and build ties between school and home.

"Bringing everyone together for something fun is not only enjoyable, it also helps parents feel close to each other," she explained. "And it helps because sometimes parents don't know what type of behavior is typical for early childhood. We try to be there to support parents as well."

According to Maxwell, who has worked at the school for six years, most of the students' families are parishioners at St. Mary-St. Catherine of Siena Parish. Almost all are Charlestown residents.

"My favorite thing about this school," she said, "is getting to see the children grow. Because most of the students are local, once they leave our school, I see them in the neighborhood, and it's really rewarding to see how they get excited when they see me."

"The children, and their families, make me feel like I've an important part of their early lives," she said.