Local
Forming the Future: The school family of St. Charles School, Woburn
By Mark Labbe Pilot Staff
Posted: 1/19/2018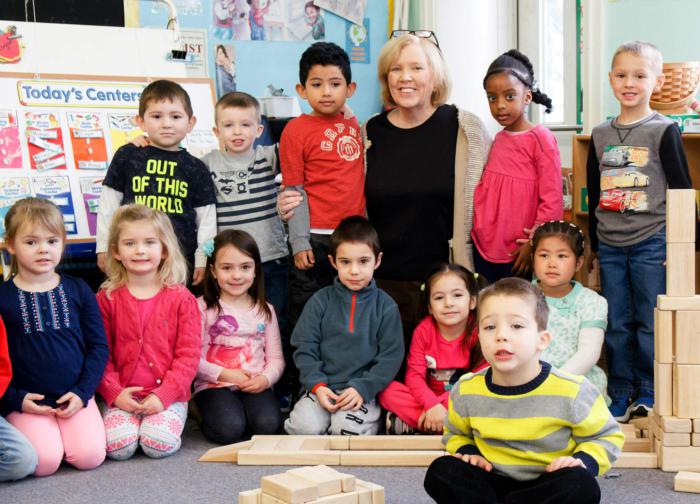 Janet Ferlisi, head of the preschool program St. Charles School in Woburn, is pictured with some of her students. Pilot photo/Mark Labbe
---
WOBURN -- Samantha Smith is in seventh grade at St. Charles School in Woburn. Her brother, Matt Smith, is in fourth. Their mother went to school there, as did their uncle and grandfather. All visit the school regularly for various events throughout the year, and their grandfather, Samantha and Matt said, loves to regale them with stories of his time there, back when the computer lab was years away and the desks had "openings for quill pens."

"They are pretty much always here," said Samantha of her family, laughing and with a tone like she couldn't decide if she that was a good thing or not.

Their mother is co-chair of the school board, and, according to Matt, "always goes to as many school board meetings as she can." She created the alumni database, and Matt said he sometimes sees her sending out email notifications to alumni at home.

For Samantha and Matt, St. Charles School is a family affair, one that has now seen three generations attend and graduate from the Catholic school. It might sound simply like school pride to an outsider, but to those who are familiar with the school know it perhaps more than just that; it's about community and a school that feels like family.

St. Charles School was founded in 1884 by the Sisters of Notre Dame de Namur. Currently, around 225 students, pre-K to eighth grade, attend St. Charles School, and according to Principal Cara Blanchette, the school has seen consistent growth.

"We're special because of the warmth -- the homey kind of environment that we create," she said, speaking to The Pilot Jan. 8. "I think that the community that we have is our unique characteristic."

Janet Ferlisi, head of the school's preschool program, attended St. Charles as a child. Her parents had attended St. Charles School, and Ferlisi enjoyed the sense of community the school provided.

After her time there as a student, Ferlisi went back to the school to volunteer, and she completed her student teaching there while in college. The school offered her a job, and for the past 41 years, Ferlisi has taught at St. Charles in various capacities, and has sent her own children through its doors.

For Ferlisi, being at St. Charles feels like "a vocation now."

"I'm extremely happy here," she said, smiling. "I'm so invested in this school that I would really do anything for it."

Donna Brennan, a first-grade teacher at the school, remembers how, when she was a student at St. Charles, the classroom had different layouts, and personal computers were still a thing of the future, a fact her students can't seem to wrap their heads around.

"Being here brings back so many memories from when I was a kid here," she said.

Brennan has worked at St. Charles for the past 10 years, starting part-time before taking on a full-time teaching position. All four of her children attended St. Charles, with the youngest due to graduate from the school this year. Like the Smiths and Ferlisi, St. Charles School runs in her family's blood; all seven of Brennan's siblings attended the school, and her children were fourth generation students there.

"I always knew that I was going to send my children here," she said.

Her children who have graduated still regularly visit St. Charles. They help out at events, Brennan said, and keep in touch with former classmates.

St. Charles is "really like a family," Brennan said. All the parents have the same values, and it is a "tightknit community."

"It just has that family atmosphere that you might never get anywhere else."