Local
From Cardinal Seán's blog
By
Posted: 2/9/2018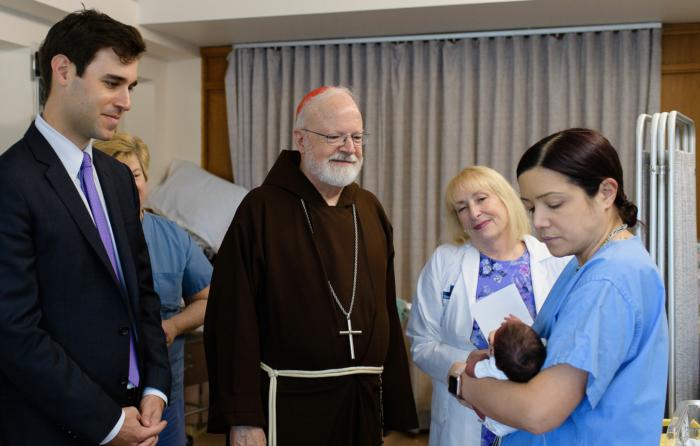 'We had a wonderful celebration at Good Samaritan Medical Center and afterwards I was able to visit the babies in the Special Care Nursery.' Pilot photo/CardinalSeansBlog.org
---
On Sunday (1/28), I went to Brockton to celebrate the 50th anniversary of Good Samaritan Medical Center. Catholic healthcare has been a very important part of the Church's ministry for 2,000 years. Jesus is the Divine Physician and we read in the Gospels the stories of his mercy and care for the sick. In the history of our Church, hospitals, clinics and care for the sick and the injured have always been a major part of the Church's witness to our discipleship in Jesus. So, it was a joy to be able to celebrate half a century of Catholic healthcare in Brockton.

The hospital has a beautiful Chapel where Cardinal Cushing celebrated the inaugural Mass 50 years ago this month. I'm always joking about how I could spend my whole life going around celebrating the anniversaries of institutions founded by Cardinal Cushing. Of course, before this, I had just returned from Peru where we celebrated the 60th anniversary of the St. James Society, which was also founded by Cardinal Cushing. And, a couple of years ago, I even traveled to Ireland to celebrate the rededication of Galway Cathedral, which was greatly supported by Cardinal Cushing. We had a wonderful celebration at Good Samaritan Medical Center and afterwards I was able to visit the babies in the Special Care Nursery.

It was inspiring to see the good work being done at Good Samaritan. The chaplain, Father Richard Visbisky, is very energetic and they have a very dedicated and experienced staff.

Two passings

On Sunday (1/28), I attended the wakes of two very special people who had passed during the previous week.

The first wake I attended was for Roland Driscoll. Roland and Alice Driscoll are wonderful Catholics who would often attend Mass at the Pastoral Center and have been so supportive and helpful to the Church in so many ways. Roland had a long and extraordinary life and was beloved by so many people. We will miss seeing him at the noon Mass at the Pastoral Center. Roland died suddenly, so I was happy to be able to attend the wake and to pray with Alice and their beautiful family.

Later that day I went to New Bedford to attend the wake of Aaron McNamee, the son of Arlene and Jim McNamee, who died unexpectedly at the age of 39. Arlene was the head of Catholic Charities in Fall River for many years, and she is also the Fall River representative to the Massachusetts Catholic Conference. I had known Aaron since he was in high school and he had also been a longtime worker at Catholic Charities in Fall River. It was a very sad moment for his family, but I was happy to be able to be there to personally tender my condolences to Jim and Arlene.

St. Andrew's Dinner

That evening (1/30), I went to St. John's Seminary to take part in one of our periodic St. Andrew's Dinners for young men considering a vocation to the priesthood. As always, we had a Holy Hour, Vespers and dinner together. Afterwards, the young men took a tour of the seminary and then gathered in the Cardinal Medeiros classroom, where they were addressed by Father Eric Cadin and seminarian David Campo. I also addressed them and gave them my blessing.

We had a very good turnout this time, including a good-sized group from Sacred Heart in Kingston. I was very pleased to see that, even though the school had been closed that day because of snow, it did not deter their delegation from coming to the dinner. They were very happy to say that they looked forward to seeing me the next day at their school and were hoping that I would give them a free day. I told them "It all depends on how well you sing at Mass tomorrow!"