Obituary
Obituary: Father Leo Lynch, longtime pastor in Woburn
By Father Robert M. O'Grady Pilot Staff
Posted: 3/9/2018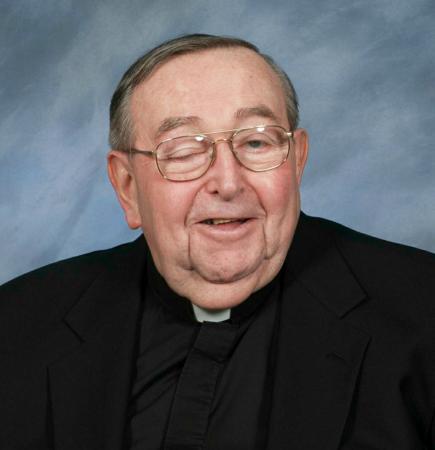 Father Leo X. Lynch Pilot file photo
---
Hailing from Boston's Dorchester section and son of St. Margaret Parish, Leo X. Lynch was born in the Hub on Dec. 17, 1930, the son of the late Daniel and Catherine (Devine) Lynch; he had three sisters, the late Margaret Flaherty; and his surviving siblings: Judith McDonald, Groton; and Lillian Bolton, of Braintree.

He attended St. Margaret Grammar School and Boston College High School, prior to entering St. John Seminary as a member of the Class of 1956. Auxiliary Bishop Eric F. MacKenzie ordained him to the priesthood at Holy Name Church in West Roxbury on Feb. 2, 1956. Because of the size of the ordination class, he and others were ordained in a spate ceremony form those ordained at the Cathedral on the same day by Archbishop Cushing.

Between ordination in 1956 and his retirement in 2006, he served in five parishes. He was assistant at St. John Chrysostom West Roxbury (1956-1960); St. John the Baptist, Quincy (1960-1965) and St. Mary Star of the Sea, Beverly (1965-1976); and St. Mary, Winchester (1976-1977).

A big man, with a big heart and even bigger voice he was a great story teller. His eleven years at Beverly were the source of much of his tale telling. The pastor at Beverly, Msgr. Francis Shields was legendary for his tough management of the parish. The associates assigned there all had multiple reports about him; mostly it was his personal style and brusque manner with the parishioners. The assistants all seemed to work well together and he "sort of left us alone."

In 1977 he was appointed as moderator of a new Team Ministry at St. Anthony of Padua Parish in Woburn. He was there for the next 30 years, less one -- an amazingly long tenure in a single parish.

He had an easy going management style, he got things done but he never was too busy for the parishioners. Known among the priests of the archdiocese as "Lou" he was gregarious and welcoming. It would be hard not to like him.

His Funeral Mass was scheduled to be celebrated at St. Anthony of Padua Church in Woburn on March 8 with Father Richard Clancy, himself a Woburn native, as the homilist. Following the Funeral Mass Father Lynch was buried in Woodbrook Cemetery, Woburn.